World Football Summit brings you the another list of confirmed speakers for WFS Europe this coming September in Sevilla. Scroll down to read more about them and why you don't want to miss out on the football industry's biggest event. This article features in the latest edition of WFS Digest, our insider's guide to the latest and most relevant thoughts and practises from within the football industry. You can subscribe to WFS Digest HERE.



ANDREA EKBLAD

Who is she? Rights Director – Women's Sports at DAZN
Biography: Andrea Ekblad joined DAZN as Rights Director – Women's Sports in 2021, lending her expertise in women's football and media rights partnerships to the company's historic UEFA Women's Champions League deal. Building on DAZN's long-time commitment and long-term mission of growing the women's game, the landmark agreement has made the competition available to fans around the world for the first time and gives the sport and the elite players global visibility and universal exposure like never before. Andrea's role focuses on ongoing collaboration between DAZN and UEFA, YouTube, and the Clubs to continuously grow and maximize this groundbreaking partnership, ensuring fans are brought closer to the game than ever before through an ever-increasing breadth and depth of coverage. In addition, Andrea helps drive and build the DAZN's overall global women's sports rights strategy, across both live and non-live content and opportunities. Andrea's entire career has been in the sports industry, having held a variety of roles previously at FIBA, the International Olympic Committee, and beIN SPORTS. Her passion for sports comes from a very young age, with most of her youth spent playing semi-professional basketball followed by a couple of seasons serving as central defender for the champions of the Hungarian Premier League (football). She is passionate about gender equality, sport activism, and positively impacting the growth of the women's game.



MARIO FERNÁNDEZ

Who is he? CEO at DUX Gaming
Biography: After several years as EA's communication director for Spain and Portugal, Mario joined DUX as CEO. In his three years of leadership, DUX has become one of the most relevant clubs in the world of esports, making the leap to real soccer with the purchase of DUX Internacional de Madrid and DUX Logroño and creating a brand that competes with the biggest clubs in terms of views and content. The Infinite Club, as DUX is known, has arrived to become the first big club of the 21st century, combining real and virtual sports.



KELLY HOGARTH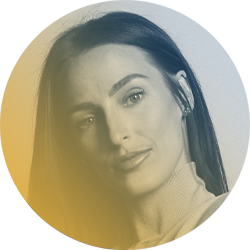 Who is she? Founder & CEO at Thelma Gwen
Biography: Kelly is currently CEO at Thelma Gwen, which is a campaign with the blueprint for authentic social impact, offering brands and organisations the point of differentiation they require to carve out their positioning in the market, as well as the purpose that resonates with, and adds value to, their customers. Kelly was previously working at Roc Nation Sports as Vice President of Strategic Marketing and Communications. She has worked closely with Marcus Rashford, proving that sports can have a great social impact, and is also a very strong advocate against child hunger and poverty.
Recently she has been involved with the following causes: Feeding Britain's Children', Rashford's documentary in partnership with the BBC, Rashford's 'Full Time' cooking initiative with Michelin starred chef Tom Kerridge, and recent engagements with Barack Obama and Sir Alex Ferguson.



KIKE LEVY

Who is he? Sports Southern Europe Lead at Meta
Biography: With over 10 years of sports media and marketing experience, Meta's Kike Levy leads sports partnerships across Southern Europe. He designs, consults and implements digital strategy for some of the biggest leagues, teams, athletes and media across the region. Some of his partners include LaLiga, Serie A, Moto GP, Real Madrid and FC Barcelona. Prior to Facebook, Kike worked at Twitter and media rights and marketing agency Infront Sports and Media.



FERRAN PRIETO

Who is he? Managing Partner at Everest Talent Management
Biography: Ferran Prieto co-founded Everest Talent Management, a global firm that helps athletes and brands enter into authentic, strategic long-term partnerships. In addition to several other clients, he has been managing the off-court career of NBA legend Pau Gasol since 2015. A native of Barcelona and a dual Spain – US citizen, his global career has taken him to multiple cities across the US and Europe where he has worked and led teams in corporate strategy, business development, venture capital and operations, for companies like General Motors, the Boston Consulting Group and Dan Gilbert-owned startups. Ferran obtained an industrial engineering degree from UPC in Barcelona and an M.B.A. from Harvard Business School.



RALF REICHERT

Who is he? Co-CEO at ESL Gaming
Biography: Ralf has grown up loving to compete. In video games, football or any other sport. While still going to university he joined forces with his brothers and friends and founded the now world-renowned clan, SK Gaming. Making a name of himself in the community he came across a group of young entrepreneurs from Cologne with whom he founded and grew ESL to the largest esports company in the world. Ralf's belief that video games as the most exciting entertainment medium available today. Esports as its competitive sports arm is changing society, inspires the company vision and continues driving it further.



ALLISON ROTHMAN

Who is she? Founding Partner at Morrison Rothman LLP
Biography: Allison has represented players across all of the top titles in esports. From her extensive background of working directly with and acting as outside counsel for the world's largest fashion, luxury goods, jewelry, and entertainment brands in order to protect their intellectual property rights, the expansion of her practice to esports and digital entertainment was not an obvious one. However, Allison took her strong intellectual property background and turned it into a mechanism to fight for player rights and bolster these athletes' position within the industry. Now, as a Founding Partner of Morrison Rothman LLP, Allison actively provides legal services in all aspects of video games and esports, as well as other areas such as digital entertainment, fashion, and consumer goods. She is passionate about educating others and advocating for proper representation, whether through handling countless pro bono deals, showing players the power of having an attorney, or teaching clients about the value of securing, maintaining, and enforcing their IP rights.
Don't miss out on this year's World Football Summit which is going to be our biggest and best event to date, buy your ticket now.
This article features in the latest edition of WFS Digest, our insider's guide to the latest and most relevant thoughts and practises from within the football industry. You can subscribe to WFS Digest HERE.