– "Welcome to World Football Summit! Bienvenidos a World Football Summit!".
Jan Alessie, Director of WFS, said these words for the first time in October 2016 during the opening ceremony of WFS' first event. That congress gathered 60 speakers and over 1,200 attendees in Madrid. Miguel Ángel Gil Marín, CEO of Atlético de Madrid, and Javier Tebas, President of LaLiga, were among the leaders that took the stage in that first event held in Complejo Duques de Pastrana (Madrid, Spain).
It's only been three years since that first kick-off, but WFS has grown to become an international reference. Our platform has hosted a total of 8 events since then, gathering nearly 600 international leaders and almost 10,000 attendees.
In  2019, WFS started its International expansion with the first edition of WFS Asia, which took place in Kuala Lumpur (Malaysia) with over 100 speakers and 1,600 attendees. Following the success of its Asian edition, in 2020 WFS will land in Durban (South Africa) for the first WFS Africa, conciding with the 10th aniversary of the historical 2010 FIFA World Cup. The event will bring together 80 speakers and 1,500 attendees at the Durban International Convention Center (ICC).
WFS Africa, that will mix the global industry's big topics with the specific challenges of the region, will be the first of the four events that WFS has confirmed for 2020. It will take place on March 17th and 18th and the tickets are already available. Click here and enjoy our 50 percent Super Early Bird discount.
Two months later, on May 29th, Istanbul (Turkey) will host the second Football Innovation Forum (FIF), an invite-only event focused on innovation in football that kicked-off last year in Madrid in collaboration with UEFA and that, once again, will be held in the host city of the Champions League final on the eve of Europe's most awaited match of the year.
WFS Asia will return to Kuala Lumpur (Malaysia) con the 1st and 2nd of July, while WFS20, the fifth Edition of our flagship event, will take place on September 23rd and 24th in Teatro Goya (Madrid).
WFS EVENTS FOR 2020: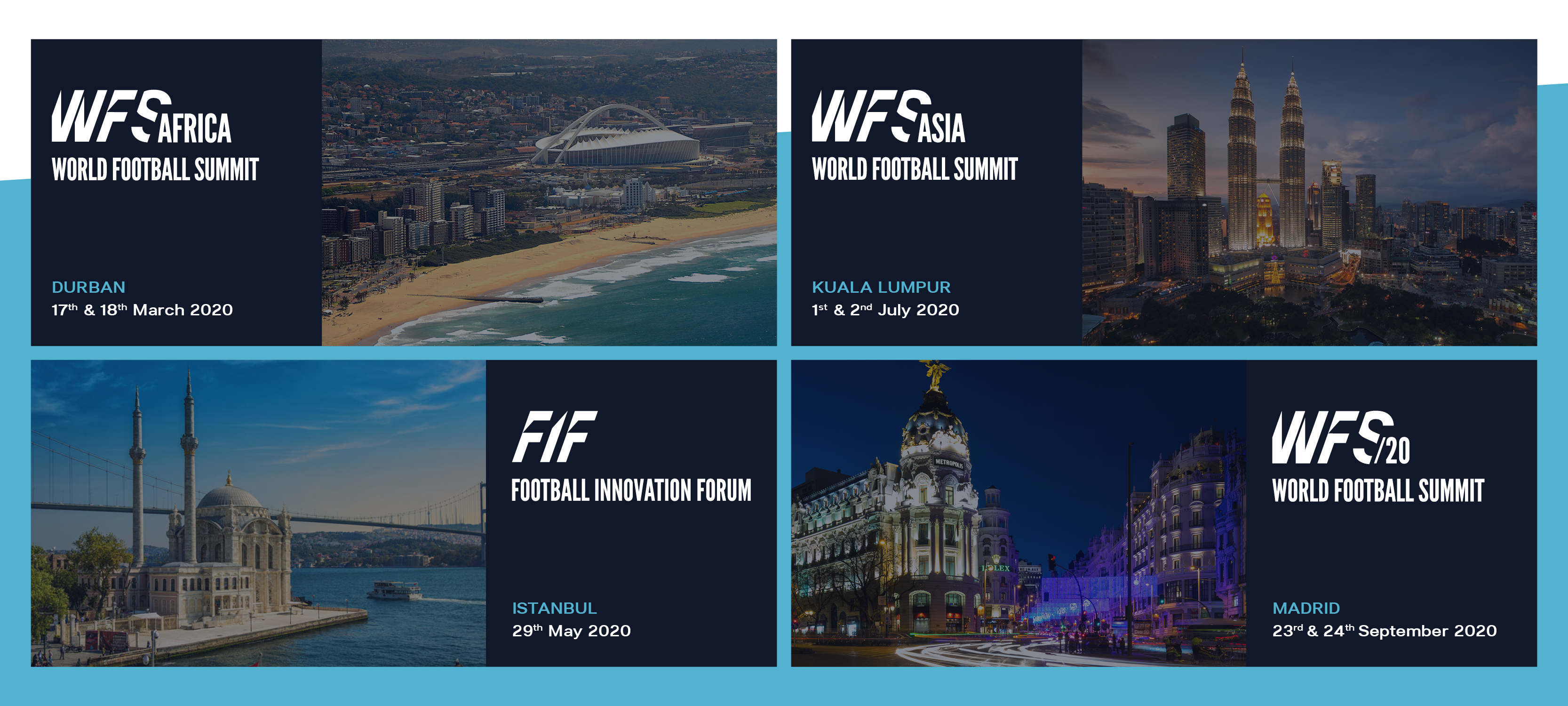 – WFS AFRICA (Durban, South Africa): 17 & 18 March

– FIF20 (Istanbul, Turkey): 29 May

– WFS ASIA (Kuala Lumpur, Malaysia): 1 & 2 July

– WFS 2020 (Madrid, Spain): 23 & 24 September