"Quite impressed by the diversity not only of the speakers but also the attendees here so I think it is quite important that you have that diversification to touch upon every part about football"
Victor Montagliani – VP – FIFA & President – CONCACAF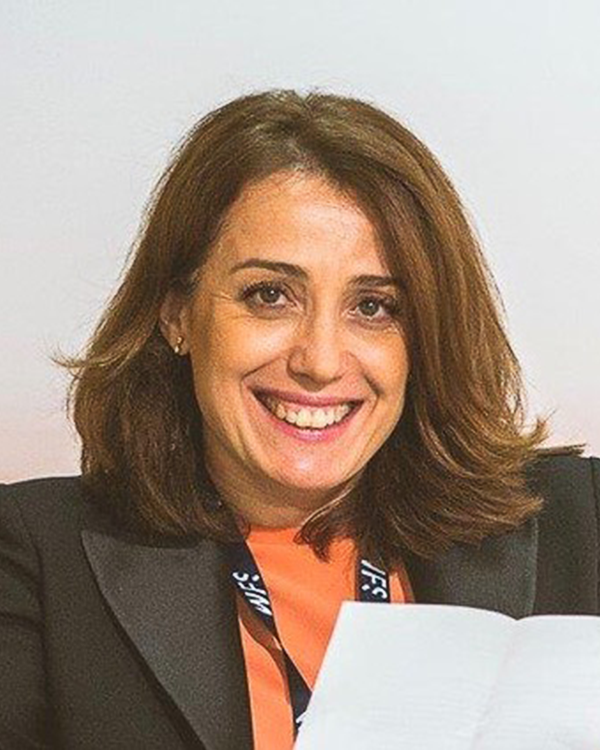 MARIAN OTAMENDI
Director
Marian, a BA in Contemporary History by Complutense University, with a MA in Publishing by West London University and Executive MBA by IE, has extensive experience in business development gained through senior positions in leading companies such as Enerco Renovables or Cubierta Solar. She has extensive international experience, having worked and lived in more than 18 different countries, mainly in Western Europe, Latin-American and Africa. She specializes in pursuing and executing new business ideas to foster economic growth and creating tangible value to clients.
Marian has excellent contacts with Spanish institutions, being a Member of the Board of the Association for the Defense of the Values of the Spanish Transition, a powerful lobby made of collaborators of the ex-president of Spain, Adolfo Suárez.
Fluent in Spanish and English, with working knowledge of French and Portuguese.
JAN ALESSIE
Director
Senior Consultant, Content Producer and Promotion Specialist with over 14 years' experience across international markets, Jan has worked in Latin America, Europe, Africa and the Middle East identifying and building partnerships at the highest level of foreign governments and the private sector, organizing high profile investment forums, negotiating and closing commercial deals, producing branded content, managing global media projects and leading commercial teams.
Fluent in English, Spanish and Italian with a proficient knowledge of French.
MARCOS PELEGRÍN
International Affairs & Development Director

Marcos Pelegrin has a degree in Law and Political Science and holds a Masters in International Affairs by ICADE.
He started his professional career as Executive Associate for CEOE International, focusing on Asia & Oceania Relations and developing successful projects with more than 20 countries. In 2014, he created together with La Salle Business School the Diplomatic Mission & Business in Spain, an immersion course for diplomats based in Spain.
Marcos was born in Zaragoza in 1987 and has lived in France, Italy and Ireland, thus speaking French, Italian and English.
Marketing Director
Rodrigo Yavarone is Marketing Director at World Football Summit.
He has a degree in Economics by Universidad Católoca del Uruguay and holds a Master Degree in Sport Management by Barcelona School of Management and a Master Degree in Sport Marketing by Escuela Universitaria Real Madrid.
Rodrigo is a sport management professional with 8 years´ experience working for different projects and properties in LATAM and Spain within different areas such as strategic planning, business development, sponsorship and business intelligence.
He has worked for Valencia CF, Real Madrid, Mutua Madrid Open, World Padel Tour and SEAT (main sponsor of Spanish Football Cup), among others.
Born in Montevideo (Uruguay) he is fluent in Spanish and English.
GREGORIO CEBRIÁN
Advisor
Mr. Cebrián, Economist, holds a Master in Financial Institutions by IE Business School and is an occasional lecturer at the IEB Executive Master in Industrial Holdings. He worked during nine years at JP Morgan Chase as Financial Controller and Director of Capital Markets.
Member of the Board of Directors of Corporación Banesto during 1997 – 2010 and Board member of over 50 companies of the group representing all economic sectors. Responsible for Investments of Venture Capital fund Banesto / Sepides / Enisa Group.
Currently he is a partner and CEO of Nexus Global Finance.
Fluent in Spanish and English.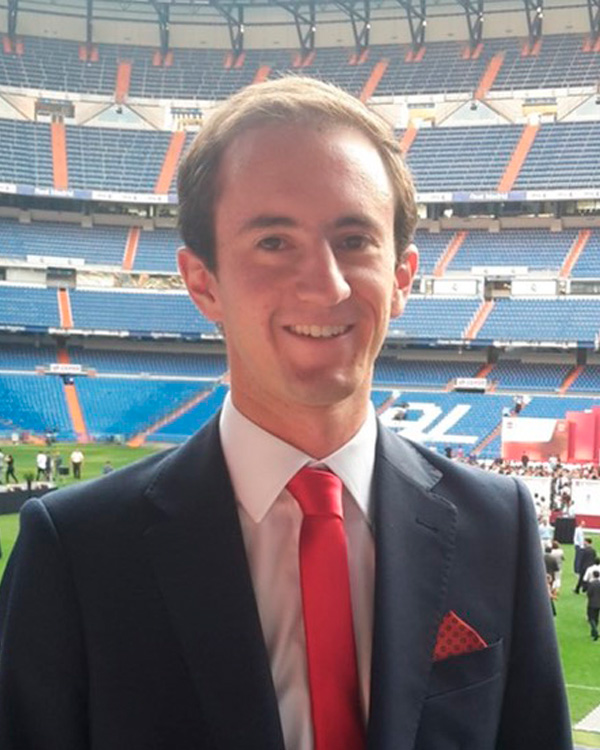 Felipe Mora
Executive Associate
Felipe has a BA in Business Administration from CESA, in Bogotá, Colombia. In Bogotá, he worked in the marketing department of multinational companies such as 3M and Energizer. He also worked as a strategy consultant for top companies in Colombia from different industries, such as beverages, oil and
banking. In 2015, he graduated from his MBA in Sports Management from Escuela Universitaria Real Madrid and worked in the Operations Department of the VIP Area of Real Madrid CF.
Currently he works as Executive Associate for Nexus Fostering Partnership, where he is in charge of the Digital Marketing and Social Media strategies, international convocation, WFS Industry Awards and carries out different activities such as: organize business summits, search for potential clients, business development and follow up, budget management, and translation.
Felipe speaks Spanish, English, Portuguese and French.
Pablo Moyano
Executive Associate
Pablo has a degree in Economic Analysis at the Pablo de Olavide University, Seville.
In 2017, he graduated from his MBA in Sports Management at Escuela Universitaria Real Madrid Universidad Europea.
He has been part of the organization of events such as the Davis Cup of Tennis, the Spartan Race, the under17 World Cup and the Manolo Sanchis campus.
Currently he works as Executive Associate in World Football Summit.
Pablo speaks Spanish, English and French.
Emilio González-Martí
Executive Producer
Executive producer with 25 years of experience in the communication sector. He began his professional career as a photojournalist for agencies and the written press. Later, in the audiovisual sector he worked for Efe, Tve, Prisa tv, Sogecable, A3tv, Tvg, Telemadrid among other media. A professional career linked to the creation and development of communication projects. He has produced programs for television, documentaries, cultural, musical, sports events, congresses and exhibitions. Since 2010, he has carried out consultancy and project development activities for the Audiovisual, Social Responsibility, Corporate Communication and Cultural Events sectors. His participation in WFS starts with its first edition.
Fluent in Spanish, English and French.