WFS Awards
When the game starts, football belongs to the players. They are the only stars. But for footballers to shine on the pitch, the hidden work of countless professionals across the industry's multiple sectors is required. The WFS Awards were created to acknowledge and reward the achievements of these executives, managers, sponsors, agencies, media, NGOs and other professionals whose talent, passion and dedication help make football the greatest show of our time.
WFS Awards 2023
This year's WFS Awards will honor the solution

providers for some of the biggest challenges in our industry's recent history.

 

It is time to put the spotlight on the talent

and work of countless professionals

, who've turned this game into a powerful economic engine.

Whether it's club managers, agencies, sponsors, companies, media,

associations or NGOs – it's more pertinent than ever to celebrate

and showcase these efforts and best practices. Applications will be running

from 16 March to 16 July. So if you, your company or someone that inspires

you has been changing the game this year, then get your nominations in

today!
March 16

 

– July 16, 2023




Application period.
September 7, 2023
Finalists announced.
September 14, 2023




Winners announced.
September 20, 2023
WFS Awards 2023.



More information on the WFS Awards 2022 and new categories, coming soon!

WFS Awards Venue
WANDA METROPOLITANO STADIUM
(Av. de Luis Aragonés, 4, 28022 Madrid, Spain)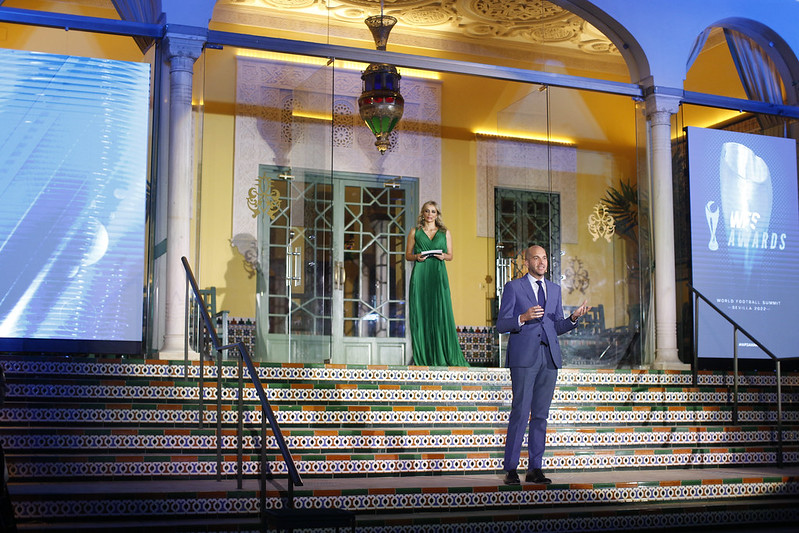 "IT IS A TOP LEVEL EVENT BECAUSE IT WAS NECESSARY TO HAVE AN EVENT THAT IS A REFERENCE FOR THE FOOTBALL INDUSTRY, AND WFS HAS, NO DOUBT, EXCEEDED EXPECTATIONS"
Julio Senn – Partner – Senn, Ferrero, Asociados



Best executive

Directed to:
The executive who has made a change for the benefit of the institution, has made the most efficient use of its resources and has achieved greater impact according to their capabilities.
We will evaluate:
· Financial management
· Operational management
· Sports facilities
· Investment



Best Supplier

Directed to:
Companies that provide products or services to the football industry.
* The company may be a supplier for different football clubs or sports disciplines.
We will evaluate:
· General description of the company
· Specific description of the product or service
· Results obtained through the implementation of the product or service



FOOTBALL FOR GOOD

Directed to:
Clubs, Club Foundations, institutions, NGOs or companies that promote social change through football.
We will evaluate:
· Creativity of the initiative
· Social impact
· Repercussion
· Originality
· Management of resources obtained with the initiative*.
*If the club collaborates with an external entity (foundation), the prize will be awarded on behalf of the two institutions.



BEST INTERNATIONALISATION STRATEGY

Directed to:
The company or institution who has expanded its business internationally.
We will evaluate:
· Presence in new markets
· Business scalability
· Brand expansion
· New sources of income
· Business diversification
· Use of technology involved to develop and implement the strategy
· CSR initiatives involved in this strategy



OUTSTANDING INNOVATION INITIATIVE

Directed to:
Football rights holders: clubs, federations, and leagues, that have recently implemented an innovative initiative with demonstrated new value generated. The Initiative must have formally begun within past 2 calendar years of award year (after 2018), and may either be completed or ongoing.
We will evaluate:
One or several of the following attributes must be present, where some combination of innovation, technology, digital, or data strategy was applied in the initiative:
· Implementation of data and analytics strategy
· Digital transformation process to show added value to fans and followers
· Adoption of an innovation mechanism
· Holistic nature of the initiative
· Demonstrated results earned with longer term growth planned
· If technology features prominently, the market for the technology
· Uniqueness of initiative
· Scalability of initiative
· Disruption potential of initiative



Best Venue

Directed to:
Stadiums and sport facilities.
We will evaluate:
· Fan Experience (in the stadium or through new technologies)
· Changes in infrastructure
· Technological advances (Connectivity)
· Match day operations
· Access
· Personalized attention
· Comfort
· Catering
· Security



BEST DIGITAL PLATFORM

Directed to:
Football teams, leagues, federations, NGOs and sponsors that have developed or launched a digital product or platform.
We will evaluate:
· User experience
· Innovation & technology
· Originality
· ROI
· Benchmarking against other similar platforms
· Audience and industry impact
· Targets vs results
· Research that went into the product or platform
· Commercial impact



Best Club Commercial Initiative

Directed to:
The commercial initiative of a club that has allowed an increase in income.
Examples of initiatives that may be presented as candidates:
· Fan Engagement, Social Networks, members, ticketing, friendly matches, equipment, licenses, among others.
We will evaluate:
· The creativity of the initiative
· The efficiency in achieving the pre-set results
· Increase in club's income
· Impact



Best Women's Football Initiative

Directed to:
The company or institution whose performance or initiative has contributed in an outstanding and relevant way to promote the development and growth of women's football, on a professional level, achieving notoriety and a certain projection that inspires new generations to practice it and audiences to follow it.
We will evaluate:
· Repercussion and notoriety of the initiative or project: ROI in communication, RRSS and Media tools to take action and carry on the initiative
· Overall contribution to the growth of the women's football industry
· Incentive to the practice of women's football
· Social impact on women's football
· Sustainability of the action or initiative on a long-term period
· The efficiency in achieving the preset results



Most Creative Campaign

Directed to:
The most creative video campaign around football.
We will evaluate:
· The creativity of the campaign
· Innovation
· Impact / Coverage