Nelson Mandela famously stated that "sport has the power to change the world". The Springboks definitely proved him right, but if there's a sport that stands out for its capability to drive social change it's football. Organizations all over the world use the beautiful game as a tool to make a positive impact on people's lives, but few do it the way WhizzKids United does. That's why WFS is proud to announce its partnership with this inspiring NGO that uses football to create a dynamic learning environment to provide HIV prevention, support, and care for youths in an area in which HIV prevalence is nearly 50 per cent.
Built out of the innate desire of Welshman football-passionate Marcus McGilvray to save lives and make a difference, WKU has already impacted over 100,000 lives and continues to grow creating real, sustainable change. We hope WFS' contribution as member of the Common Goal platform can help increase that figure in the future.  
We talked to Marcus, who will be a key speaker at WFS Africa next March, to learn more about his incredible journey to build WKU. He planned to stay in Africa for "a couple of years" and he's made the continent his home.
Q. Marcus, can you start by telling us a little about your professional background and what took you to South Africa?
A. After studying a BA (Hons) in Health management and becoming a Registered Nurse in the UK, I specialised in HIV, sexual health, and tropical diseases. I worked in one of the top HIV clinics in London and at University College London. I was part of the Government Forum in developing and teaching sexual health in UK schools. Additionally, I was part of a small team of health professionals who developed the first adolescent HIV transitional clinic in the UK.
I became increasingly aware of the total devastation HIV & AIDS was having on people in Sub-Saharan Africa, I knew I couldn't just sit back and not do anything to help and ease the suffering. So, my then partner Nicola and I bought an old Land Rover, saved all our wages and threw in our life savings. We took a two-year sabbatical and drove to Africa under the banner 'Africaid', a name we chose simply because the website domain was free!
Q. Your initial plan was to stay for a couple of years and you've been there for 15 so far. What is it that attracts you to South Africa?
A. I've always found the stark disparity in South Africa between those who have everything and those who have nothing quite unnerving. I was always very happy at home in Wales, but the need for HIV interventions in South Africa back in 2003 was critical. In fact, it still is. We are making inroads, but too slowly for my liking. Right now, I'm based in Northern Ghana, where I'm developing and expanding our programmes with a particular focus on sustainability, but I do return to my work in South Africa often.
Lives are at stake – we could be saving more youth and more children than we are right now" – Marcus McGilvray
Q. Tell us a little bit about WhizzKids United and the work you do with children and teenagers in KwaZulu-Natal.
A. Initially, I worked as the Programme Manager for the anti-retroviral 'roll out' at the Department of Health KwaZulu Natal. I developed and implemented training for both health professionals and patient 'readiness'. This was funded by Harvard, Mass General.
I've always enjoyed working with adolescents and saw a critical need in terms of developing meaningful HIV prevention work and dedicated adolescent services, so I developed and launched Africaid, WhizzKids United (WKU) in 2005. The aim was to use football to provide HIV prevention, care, treatment and support for youth.
Q. What role does football play in WKU? It's much more than just a vehicle to attract kids to get their medical tests done.
A. We started out by developing an eight-session football curriculum called 'On the Ball'. The curriculum uses each facet of football and applies it directly to a life skill. I must admit, at the time I knew very little about football coaching. I was only familiar with the healthy life-skills aspect of it, but I was able to bring onboard the then Chelsea youth coach, Jeff Bookman, and a semi professional player, Karl Hankinson, who helped me design the curriculum.
We are now on the eighth edition of 'On the Ball', but it remains our entry point to youth and the WKU programme. We work with kids in school and communities between the ages of 11 and 23. 'On the Ball' helps us develop a repour and trust with the youth.
Football is a language young people understand and it transcends cultures and different backgrounds. WKU staff can bond with the kids through this beautiful game, and then introduce them to our WKU Health Academy. The Academy is essentially a youth-friendly sexual and reproductive health clinic, which includes HIV prevention and treatment based in Edendale (Pietermaritzburg) in South Africa, where HIV prevalence is of 60%. We also have a Health Academy in Tamale, Northern Ghana.
WKU provides youth with over 40 health, education and empowerment programmes, and the Academy is fronted by a football pitch and staff who wear football strips as opposed to uniforms. WKU provides the only dedicated adolescent services in South Africa and Ghana.
Q. Why did you choose football as one of the pillars of the project? Had you used it in other projects before founding WKU?
A. Driving from church one Sunday, I heard in the news that South Africa had won the rights to host the 2010 FIFA World Cup. I just started to think how I could use this newfound appeal, momentum and power of football and the World Cup for social good. From there I came up with the whole WKU idea.
Q. Nelson Mandela stated that sport has the power to change the world. How many lives do you estimate that WKU has changed through football?
A. Directly as well as through the sharing of our work with global NGO's, we've impacted over 100,000 lives with WKU. Our approach has always been to develop young people throughout their adolescence, giving us time to make a meaningful change. There is no quick fix to enabling a healthy behavior change. I think that's precisely where we excel.
Additionally, I don't think there is a charity in the world that has done as much as we have on such a small budget. We are the NGO 'Primark' of the world. We are rightfully very careful and diligent with people's investments in WKU.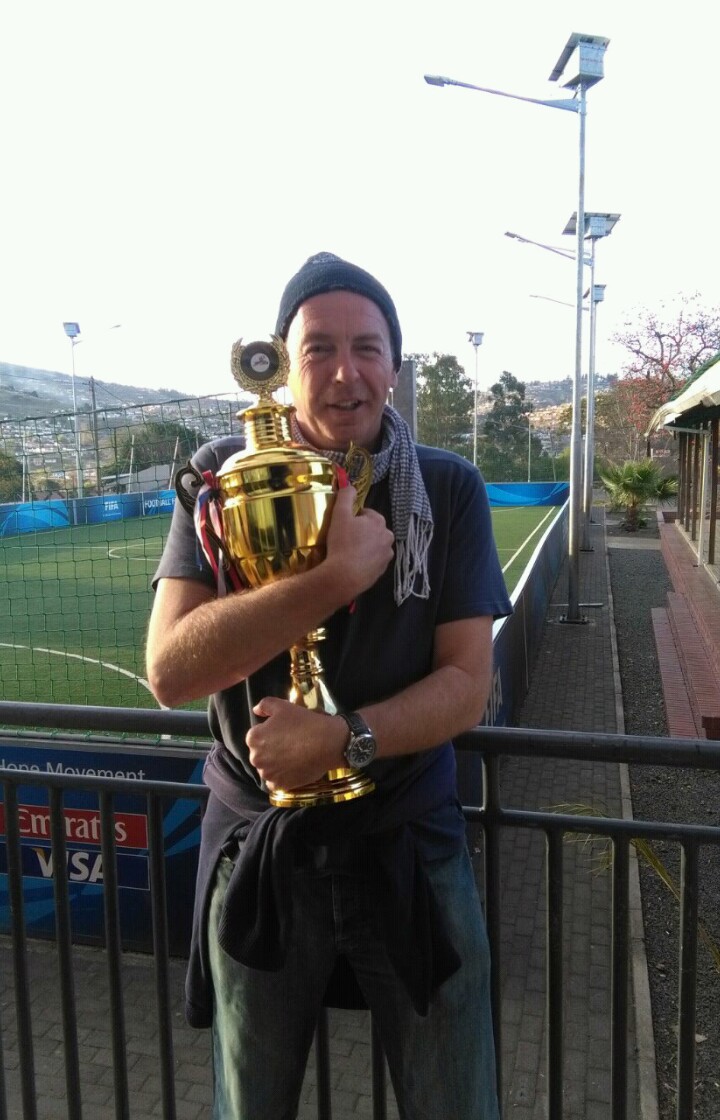 Q. You're an extremely active person, so I'm sure your mind is buzzing with new ideas and projects for the future. Anything you can share?
A. You know me too well already! My mind is always thinking of ways in which we can create sustainable change for young people. Those who have a plan and purpose in life are far less likely to put themselves in risky situations. Right now, I'm developing ideas to create work 'apprentice incubators', so that young people can learn a skill, set up their own business and earn a fair wage.
I've plenty of ideas, but I need businesses to see the value of employed youth for society and for the global economy. It certainly doesn't surprise me when young, restless youths are radicalized or fall into gangs. Young people crave identity and a sense of belonging. We need to create nurturing environments for youth, environments that can have a positive influence. We can do this, we just need investors.
Q. Football is a tool, but obviously these new projects need funding. Who are the main funders of WKU?
A. Sustainability has always been at the core of WKU. In South Africa, the Department of Health meets 65% of all our costs. We have several income-generating programmes in Ghana. In fact, WKU Out Restaurant is ready to open – we just need $7,000 now to bring in staff, stock and a few more fixtures and fittings. I'd also like to help develop the WKU model in other African countries and Asia.
FIFA, Common Goal, Meal A Day, FIFA Legacy Trust, Global Fund and Charlize Theron African Outreach Project are all long-term investment partners. However, we always need new partners to meet the needs of more young people.
Q. Is WKU supported by any current or former football player?
A. Through Common Goal we are currently supported by 3 footballers which the kids really love to hear about. Even if they don't get to meet them, they inspire them to do better. Unfortunately, players are difficult to reach these days behind their agent walls. This is a shame, because I think more players would help if they only knew about us.
Q. In general, would you say that African players are committed to what we'd call "giving back to the community"?
A. African players are very conscious of their roots and typically hard upbringing on the African continent. As a result, I think they are more inclined to get involved in 'football for good' and give back to their communities and to the continent as a whole.
Q. WFS is known to be one of football's most important international platforms. If you could make one request to the global football industry what would it be?
A. I would ask that Football for social development be at the core of all that it does. Ultimately, it's the fans who create the football industry and the vast wealth it creates. Football fans are typically working class, and the working class have always supported the poor. Football has a duty to give back to the fans.
Q. As a speaker at WFS Africa you'll have the opportunity to do so. By the way, what impact do you think WFS can have on Africa's football industry?
A. The African football industry is just like a team. It needs a good coach so that the players can hone their own skills and work better as a team. WFS brings together that Ubuntu philosophy, 'I am because we are'. WFS is the Alex Ferguson of coaching – helping to develop different skill sets, strengthening the squad in order to create a winning African football industry.
Q. Africans have a unique passion for football and a huge capacity to produce talented players. However, the continent has been unable to build a profitable industry around football so far. Why?
A. To put it bluntly, this beautiful game is being eroded by corruption in Africa. Real talent is overshadowed by questions like 'who do you know?' or 'what can you do for me?'.
"The African football industry is just like a team. It needs a good coach so that the players can hone their own skills and work better as a team" – Marcus McGilvray
Q. And last but no least: how can people get involved with WKU and support you in this awesome job that your carrying out?
A. We would urge people who would like to invest in WKU's football for good model to email me, call me, or go to our website and see what we can do together. We are happy to receive donations, of course. However, we see investment as a two-way commitment. We look at what the WKU programme best suits the individual or business sponsor, and look to long-term partnerships which we can grow and build on.


If you want to know more about WhizzKids United and contribute to Marcus' cause, you can visit the WhizzKids United official website or drop Marcus an email at marcus@africaid.org.uk.