CIES Football Observatory have put together an analytical, data-driven look at who it is that boasts the most potent attacking front-three in Europe: Manchester City, Real Madrid or Paris Saint Germain? This article features as part of the latest edition of WFS Digest, our new insider's guide to the latest and most relevant thoughts and practises from within the football industry. You can subscribe to WFS Digest HERE.
CIES Football Observatory have dedicated their April monthly report to a study on the technical role of players in Europe's top leagues, particularly focused on Manchester City, Real Madrid and Paris Saint Germain.
By the hand of sports performance analysts, InStat, CIES have concluded a profiled player study by taking into account Europe's 32 UEFA member leagues with a span of 6,111 outfield players who have chalked up a minimum of 1,000 minutes across the 2021-22 season so far.
The report focuses on 11 different game variables: six are offensive (shots, assists, key passes, crosses, successful dribbles and offensive aerial challenges won) and four are defensive (interceptions, ground challenges won, picking-up's and aerial challenges won), as well as passing (distribution) that stands alone. These 11 variables have then been divided into eight game domains as shown below: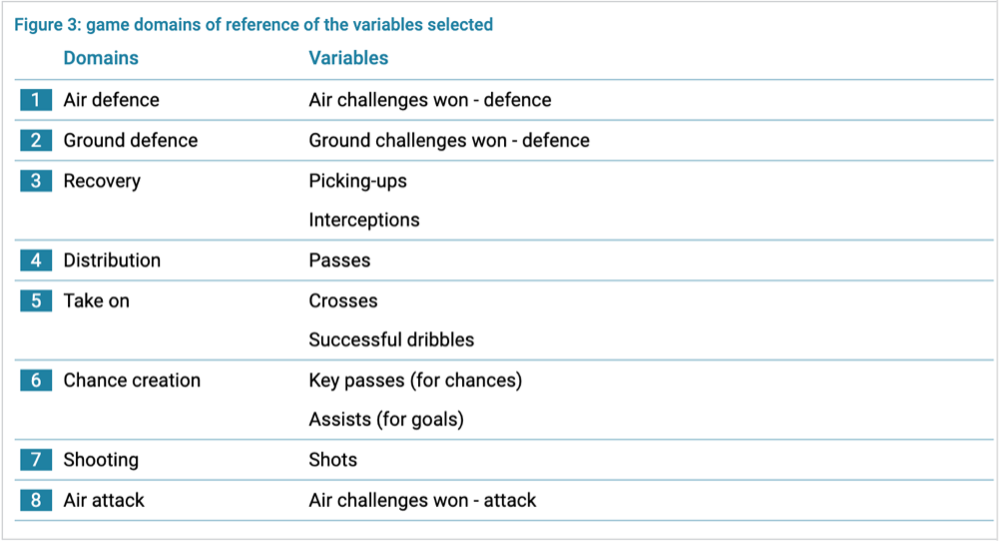 These stats have been taken into consideration as personal characteristics of each player rather than simply the position they occupy on the field, allowing a detailed definition of the role that each footballer plays in his team, granting an unbiased identification of the actions in which the individuals stand out above their teammates.
Despite the three main positions usually sharing a set of specific characteristics, there are also players that break this mould and excel in less prototypical aspects of their position. For example, a predominantly defensive footballer may also attract attention in the area of goal scoring or ball distribution. For this reason, CIES have defined 15 different player types rooted on their key strengths based on the eight game domains previously mentioned.
Naturally, some of these player profiles are more common than others. Highest on the ranking of the 15 depictions is the 'Ground-to-air blocker' with 14.2% of the share amongst the studied players, and the lowest being 3.04% which embodies the Defensive shooters. An example of this first prototype is Manchester City centre-back, Rúben Dias. A 'Defensive shooter' on the other hand is Real Madrid's Toni Kroos.
In regard to the front three of each of the article's target clubs, the forwards with most minutes played for the club this season in their respective domestic leagues have been taken into account. Evidently, PSG's star trio is composed of Leo Messi, Kylian Mbappé and Neymar Jr., with Karim Benzema, Vinicius Jr. and Marco Asensio forming Real Madrid's offensive set-up. More consideration has been taken when selecting Manchester City's forwards due to Pep Guardiola's alternating line-ups, therefore the players chosen are those who have played most minutes: Raheem Sterling, Jack Grealish and Gabriel Jesus.
Firstly, their game domain roles must be established to be able to make a comparison between the three teams attacks.
In the case of PSG, the three strikers are situated in distinct but related domains. Mbappé has been defined as a Shooter infiltrator with his main attributes being take-on and shooting; Messi shares the shooting trait with the Frenchman but is stronger in chance creation making him a Shooter creator; Neymar on the other hand is a blend of the two without being weaker in his shooting, personifying the perfect Infiltrator creator.
Real Madrid's offensive trio share these domains, with Karim Benzema considered a Shooter creator and both wide men sharing the label of Shooter infiltrator, demonstrating that they have two similar players on each of their wings, at least in the face of statistical analysis. However, they do not possess an Infiltrator creator as the Parisians do in Neymar Jr.
In the case of Manchester City, their attack is also varied. Somewhat surprisingly, Jack Grealish is defined by CIES's study as a Target man shooter despite starting on the wing since his arrival at the club, meaning his primary fortitudes are in the areas of shooting and air attack. On the other hand, Raheem Sterling encapsulates the prototypical winger that we've seen with the previous two clubs, falling under the scope of a Shooter infiltrator. Lastly, Gabriel Jesús follows Benzema and Messi's lead as a Shooter creator.
Needless to say, the nine forwards fall into into the primary categories that characterise almost every player of an attacking nature. However, when taking a closer look at the numbers game, there are some blatant differences that stand out in each category.
In the case of the Shooter infiltrators – Mbappé, Vinicius Jr, Asensio and Sterling –, we can observe a vast difference in their shots per game, ranging from Mbappé's average of four shots per 90 minutes to Asensio and Sterling's two a game.
On the contrary, coinciding figures can be found amongst the Shooting creators Lionel Messi and Karim Benzema, with the former providing 2.6 key passes per 90 and the latter creating 2.0. Jesus, however, is significantly below them with 1.2.
This article features as part of the latest edition of WFS Digest, our new insider's guide to the latest and most relevant thoughts and practises from within the football industry. You can subscribe to WFS Digest HERE.