Recently all our social media and news platforms were "invaded" by the same topic: ChatGPT and its AI text generator. You probably already heard of it or used it by now, unless you've been living under a rock for the past few days. So, since this week we are talking about the growth of Women's Football, we decided to see what all the fuss was about and ask ChatGPT about the future of Women's football.
For our little experiment, we asked ChatGPT the following questions regarding Women's Football:
"What is the potential of women's football?"
According to ChatGPT,
The potential of women's football is significant. According to FIFA, the global governing body of football, the number of women and girls playing football has been steadily increasing, with more than 30 million female players worldwide. This suggests that there is a growing interest in the sport among women and girls, which could lead to increased participation and support for the sport in the future. Additionally, women's football is becoming more professionalized, with more and more countries launching professional leagues and tournaments for female players. This can help to attract top talent to the sport and improve the quality of play.
There is also a growing interest in the sport from media and sponsors, which can help to increase visibility and generate revenue for the sport. This, in turn, can help to support the development of women's football at all levels, from grassroots to professional. It's also worth noting that despite the sport being still far behind men's football in terms of investment and visibility, it's showing a very strong growth in the last years, especially in countries like the United States, China, and Europe, which are showing a great potential for the sport to continue growing.
Overall, the potential of women's football is promising as it continues to gain popularity and recognition as a sport. With increased investment, media coverage, and fan engagement, women's football has the potential to continue growing and becoming a major sport worldwide.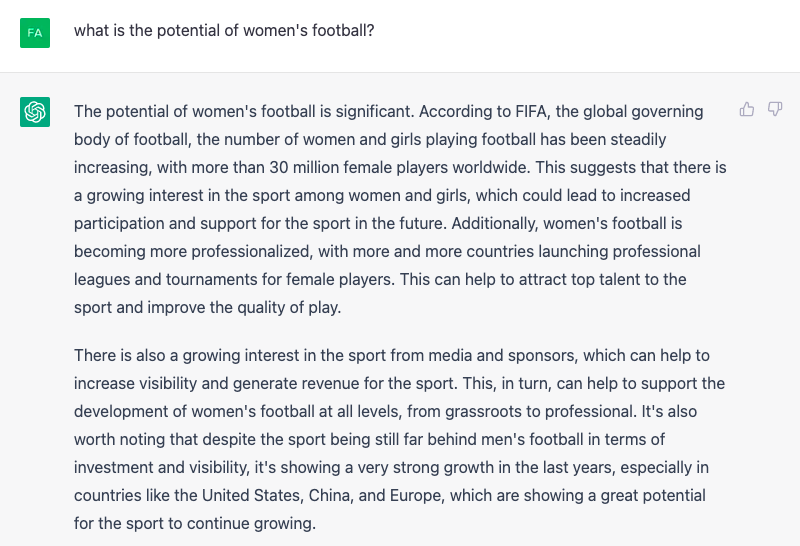 "What will the future of women's football look like?"
According to ChatGPT,
It is difficult to predict exactly what the future of women's football will look like, but it is likely that it will continue to grow in popularity and acceptance. There may be increased investment and support for women's leagues and teams, leading to more professional opportunities for female players. Additionally, there may be more media coverage of women's football and more opportunities for fans to watch and engage with the sport. The FIFA Women's World Cup, Olympic Games and other major tournaments will also continue to be major events in the sport. However, it is important to note that, as with any sport, the future of women's football will also depend on various factors such as the development of players, the success of teams and the overall interest of fans and media.

"What is the growth of women's football?"
According to ChatGPT,
The growth of women's football has been increasing in recent years, with more and more women and girls participating in the sport at all levels. This has been driven by increased investment and support from governing bodies, clubs, and sponsors, as well as a growing awareness of the importance of gender equality in sport. Additionally, the success of national teams and individual players has helped to raise the profile of the women's game and inspire more young girls to get involved. However, there is still a long way to go in terms of achieving true gender equality in football, and more work needs to be done to ensure that women and girls have the same opportunities and resources as their male counterparts.
Our conclusion
We were very impressed by ChatGPT's level of understanding a particular topic within seconds and generating a text while giving you context, numbers and key players.
To sum up what ChatGPT said about women's football and the key elements we consider important and agree with are the following: 
There is continuous growing interest in women's football from players, media and sponsors worldwide.

Investment, support, awareness and fan engagement are key factors in the growth of women's football.

The professionalization of women's football in more and more countries is a strong will to raise interest in the sport from media, sponsors, governing bodies and fans. 

Major tournaments and leagues play a key part in generating awareness in the sport as well as in gender equality. 
We also decided to dare and ask ChatGPT what it considers are the main reasons to attend a WFS event. Check the answers on this instagram post we prepared!