AMB Group, LLC will make history next week in Madrid when its CEO, Steve Cannon, and Darren Eales, President of Atlanta United, take the stage to collect the WFS Industry Awards for Best Venue presented by Mondo Stadia and for Best Executive presented by Nolan Partners, respectively.
It will be the first time that an ownership group has won an award in two different categories and, furthermore, the first time that a Major League Soccer (MLS) franchise has been recognized with an award by the World Football Summit.  This international event for the football industry acknowledges and rewards the work of the professionals who make football a real economic engine.
Darren Eales, the man who led Atlanta United to win the MLS Cup in only its second season of play, outvoted Victor Blanco, President of Argentina's Racing Club, and Shaun Harvey, former Chief Executive of the England Football League. The jury agreed that the winner "brought a new way of thinking and recruiting into the league, won a championship and turned a non-traditional football market into a powerhouse while generating great value for the league."
"I am honored to be named Best Executive by World Football Summit," said Darren Eales.  "Building our club from the very beginning has been an incredible experience for me personally, and I am very proud of what we have accomplished in such a short time.  I am happy to be recognized on behalf of our owner, Arthur Blank, the players, coaches, staff and fans of Atlanta United; the award is truly a reflection of their outstanding work and support," said the former English striker, who played both collegiately and professionally in the US.
Mercedes-Benz Stadium outvoted Levi's Stadium and the National Soccer Hall of Fame Experience, also located in the US. According to the jury, "innovation runs through the stadium, from the design through to the experience – with the visual aspect and roofing structure being two genuinely ground-breaking elements of the venue."
Mercedes Benz Stadium is a multi-purpose retractable roof facility that has taken fan engagement to a completely new level, thanks to its state-of- the-art technology and connectivity.  During the games, fans are kept up to date on all news about the teams and events through its ground-breaking mobile app, with access to exclusive articles, inside information, videos, photo galleries, up-to-date player and team statistics. It is shared by the Atlanta Falcons (NFL) and Atlanta United (MLS) and it has repeatedly broken the MLS attendance record since its inauguration in 2017. Last month, 72,548 supporters showed up for the Atlanta United match against LA Galaxy. Since opening in 2017, Mercedes-Benz Stadium has played host to prestigious events including the College Football Playoff National Championship in 2018 and the Super Bowl in 2019. The venue was also featured prominently in the 2026 FIFA World Cup United bid.
"We want to thank the World Football Summit for honouring Mercedes-Benz Stadium as Best Venue of the Year," noted Steve Cannon, CEO of AMB Group. "This is a wonderful recognition of the many ways that Mercedes-Benz Stadium is breaking the model for sports venues around the industry by innovating the fan experience at every turn."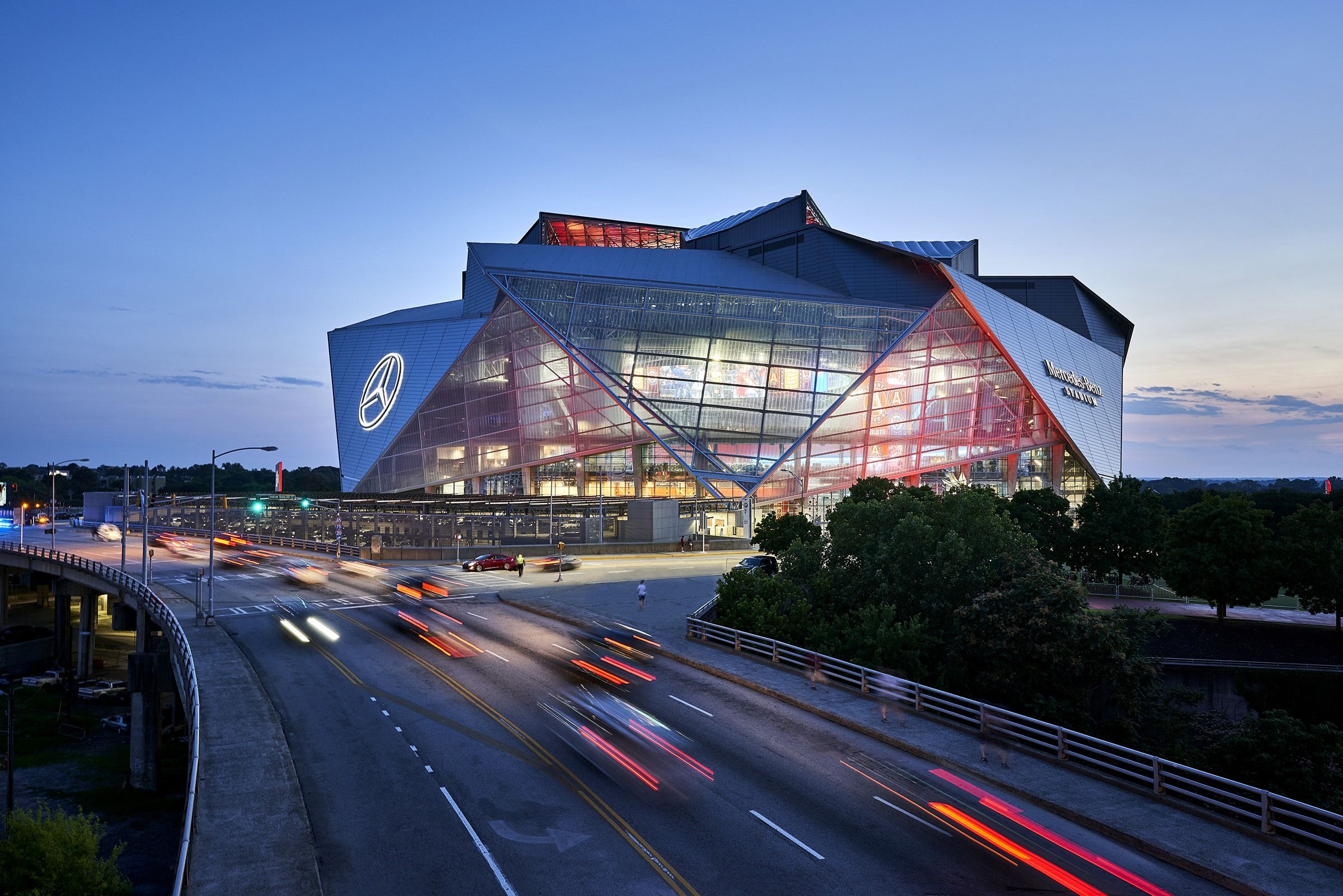 Jan Alessie, Director of World Football Summit, congratulated AMB Group, LLC on what he describes as a "remarkable accomplishment, never achieved by any other football property".
"Atlanta United is doing an excellent job and is playing a key role in the growth of MLS, which is arguably experiencing the best time of its history as we will be discussing in several panels during WFS19. Attendance and TV rates have boosted in the last few years and each day more and more Americans cite soccer as their favorite sport to watch, which is excellent news for the industry. Football still has some way to go in North America, but the US is already leading the way in crucial areas like developing smart stadia," he said.
Both Steve Cannon and Darren Eales will be speaking at World Football Summit, which will take place on September 24thand 25thin Madrid. They will be joining some of the industry's top decision-makers such as Peter Moore, CEO of Liverpool; Emilio García, Chief Legal Officer for FIFA, David Hopkinson, Global Head of Partnerships for Real Madrid; Javier Tebas, President of LaLiga; Charlie Marshall, Managing Director of the European Club Association, and leading executives representing brands like Facebook, Amazon, Rakuten, Konami or DAZN. The awards ceremony will take place on the evening of September 24thin Madrid's Florida Retiro.