Did you know that, according to a study by Deloitte, women hold just 22% of board seats in football clubs globally?
Is this the football we want? Or can we do better?
At World Football Summit we firmly believe that football, and sport, need to become much more than just "business," or "entertainment."
In the words of Professor Muhammad Yunus, Nobel Laureate 2006,  "Sport has the power to change the world."
In September of 2023, we made public our commitment to change the game and face the uncomfortable truths in football by revamping our brand and setting out on a quest to help build the football we want, the football we need.
The business around football and its professionals need to commit to excellence, find new avenues of growth through innovation, and be responsible for creating an ecosystem that is inclusive and sustainable across its three pillars (economic, social, and environmental).
It all starts with people.
The sooner we realise this, and, make a conscious effort to give equal opportunities to all the men and women who believe in this mission, the earlier we will reach our destination of creating a football we are proud to champion.
Remarkable initiatives don't just happen. They are made.
Here we are, standing on the brink of the next era of football—an era where equality and diversity should not just be buzzwords, but are embedded into the core of the ecosystem. This isn't just about a game. This is about making the game matter, in more ways than you can count.
At World Football Summit we firmly believe that a more equal and diverse industry leads to sustainable business growth. We are fully committed to helping make this happen, and this is the reason behind several initiatives we have implemented.
But this should not speak about the past, rather it should serve as inspiration of what needs to be done in the future.
---
The Stage Is Set, The Players Are Ready
Female Leadership Cocktail at World Football Summit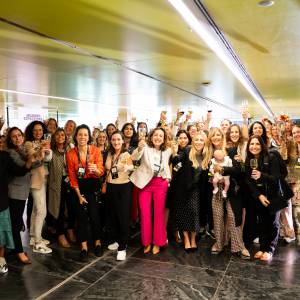 Imagine a room buzzing with dynamic energy, where clinking glasses of cocktails serve as a catalyst for transformative dialogues. Our Female Leadership Cocktail event at the World Football Summit was more than just a social gathering. It was a curated space where women in the football industry, from executives to former athletes, converged to catalyze changes that ripple across the sector. Networking here was not merely transactional; it was transformational.
"As a woman in the industry, it was empowering to see so many women and hear the industry making moves towards equality (and not just for women, for everyone)".
---
The Voices That Matter
Panels on Female Leadership & World Football Summit Podcast
If talk is cheap, then we're redefining the currency. At our WFS Events, we host panels focusing exclusively on female leadership in football, featuring leaders who are not just breaking barriers but building new ones. These discussions serve as a launchpad for actionable steps toward equity.
Our World Football Summit Podcast complements these panels. We dive deep into one-on-one conversations with trailblazing female leaders, unearthing insights that can reshape our industry's landscape.
---
Numbers Tell a Story
30% Female Speakers at WFS Events
It's easy to espouse ideals; it's harder to act on them. That's why, for the time being, we commit to having 30% of speakers at WFS events be women, and we hope to keep increasing that number in the future. This isn't a box-ticking exercise; it's a profound commitment to balanced representation.
---
A Common Goal: Winning the game of the future
The teams that make history are those who commit to playing the long game and support each other through the thick and thin. Since its inception, Common Goal has been one of those organizations for us, and it has been an honor to "be in the arena" with them throughout these years. Some of our initiatives include:
Donating part of our ticketing revenue to the victims of the conflict in Ukraine
Donating proceeds from the inaugural WFS Live event to both Common Goal and Fundação Fenômenos.
Giving the proceeds of the second edition of WFS Live to Common Goal's Covid-19 Relief Fund.
But this is not about what we have achieved, our focus is on what we can still achieve together.
---
Applause Where It's Due
WFS Awards for Social Impact
Recognitions often reward performance, but what about purpose? Our WFS Awards aim to fill this gap. We seek to honor not just individuals but also projects that create a ripple effect of social impact in the football world, from grassroots initiatives that empower young girls to play the game, to enterprises using football to achieve the UN Sustainable Development Goals. It's about rewarding the impact that lasts long after the final whistle blows.
---
The Game Changer
The Most Inclusive Match in the World
In partnership with Real Betis and Integrated Dreams, we took an audacious step. We co-organized a match recognised as The Most Inclusive Match in the World. It wasn't just players on the field; it was a microcosm of society—reflecting all genders, races, and abilities. A game, yet so much more: a showcase of what football—and society—can be when we embrace inclusivity.
---
???? ¡El #RealBetisRealValladolid fue el partido más inclusivo de la historia!

???? La iniciativa del @RealBetis y @WFSummit acogió a 1740 aficionados con diversidad funcional

#⃣ #MuchoMásEnJuego pic.twitter.com/IOfLaXIS9j

— GOL PLAY (@Gol) February 19, 2023
Recognition, Not Just for the Shelves
Spain's Distinction for Gender Equality
While awards and honors often gather dust in storage rooms, Spain's distinction for gender equality is a true commitment we live by. It serves as both a validation of our efforts and a reminder that the work is far from done. But this is far from being the finish line; it is a milestone in our ongoing marathon toward greater equality.
---
The Compelling Figures
Now, let's talk facts. Companies with women in executive positions offer 34% greater returns to shareholders. Additionally, research shows that diversity fosters greater innovation, propelling companies 19% ahead in revenue. These aren't just statistics; they're a roadmap that underscores how diversity and female leadership are not just ethical choices but smart business decisions.
Wouldn't your sports-related business want to achieve similar results?
---
Conclusion: Change Starts Here
World Football Summit isn't just a series of events; it's a movement. A movement towards greater equality, diversity, and meaningful impact.
You can either watch from the sidelines or play the game with us.
 Change isn't a spectator sport. Let's build a football industry we are proud to champion, together.