Recovering from the effects of the Covid-19 pandemic will be a long and tough match for the football industry. Leading experts believe that some of the challenges posed by this unprecedented health crisis will remain at least until 2024. However, new opportunities will arise for both properties and brands, allowing the industry to find non-traditional revenue streams that will mitigate the impact of the crisis while opening future business opportunities. These are two of the main takeaways of 'Covid-19: Implications on the football industry', a report produced by World Football Summit and SPSG Consulting in collaboration with the members of the WFS Advisory Board and other key industry stakeholders.
These experts completed a survey that stressed the level of the overall impact of the coronavirus outbreak in the industry. What was measured was Covid-19 effects on football's different revenue streams, its main stakeholders, the timeline of Covid-19's estimated impact and the geographical areas that have been mostly hit by the pandemic. The negative effects of Covid-19 will remain a feature until 2024. Whilst restrictions may ease in the years ahead, it will only be at a limited capacity and properties will still note a decrease in their revenue streams. However, experts trust the worst part will be over by the end of 2022.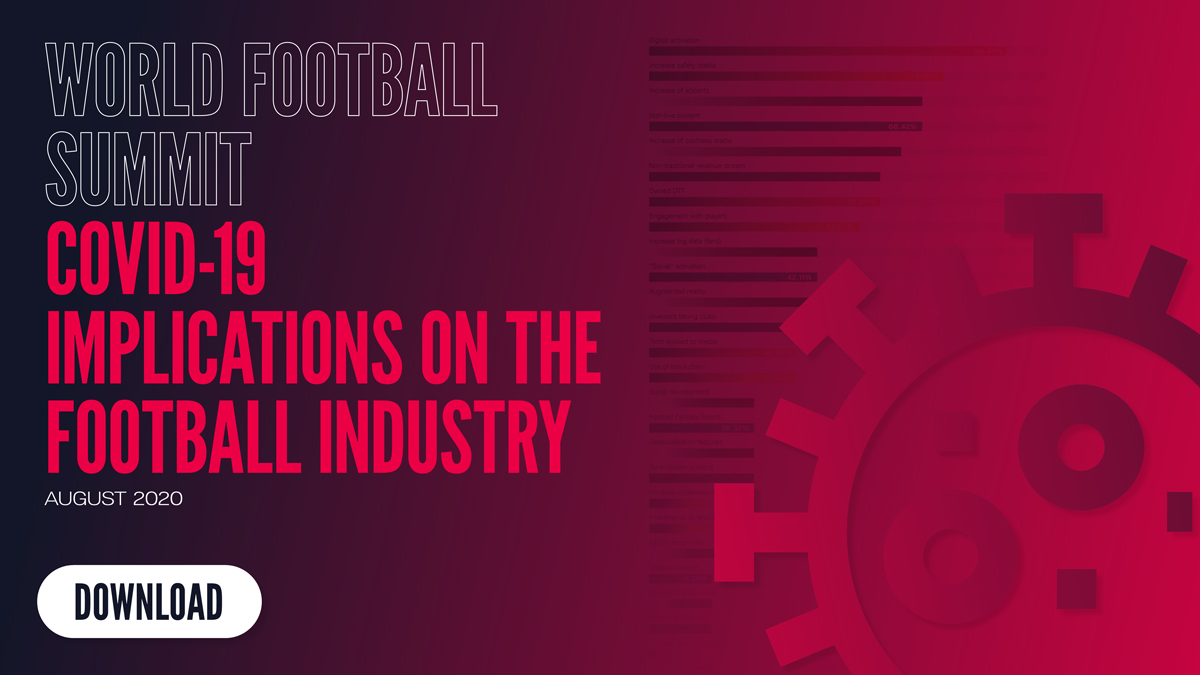 Despite resuming play behind closed doors, match-day and facility revenues will still receive a greater impact from the outbreak, limiting the opportunity to sell match tickets, hospitality packages and other activities normally carried out in the stadia. Even when the time comes for stadia to re-open, obstacles will still exist regarding the management of facilities at their full potential as there will be greater public health protocols put in place to ensure a safe experience for fans.
Experts suggest commercial revenue from sponsorship, licensing, merchandising, and advertising sales will be the next revenue stream to be adversely hit. Regarding sponsorship, many properties (that is leagues, clubs, federations & athletes) operate on performance-driven payment schemes that tie a variable fee to the team performance or the achievement of other metrics on the field. Additionally, some of the rights possessed by current or potential sponsors and advertisers will simply not be delivered, which in turn dilutes the value of sponsorship programs.
Sponsorship value is set to decrease, as, if sports are not able to fill stadiums and lose physical audiences, sponsorship eventually may not be as attractive for companies. The financial difficulties suffered by selected brands will force them to adjust their marketing budgets accordingly and consequently terminate deals or cut sponsorship investment. Experts suggest partnerships will be "with a purpose" as brands and sports properties seek to provide valuable activations aiming to alleviate the impacts of the pandemic and contribute to the social development of society.
Playing behind closed doors also sees a fall in the demand of merchandising and licensing products, though at the same time forcing football properties to leverage on e-commerce revenue streams.
As predicted, experts suggest that the stakeholders having the highest level of impact from Covid-19 are mass events. The rapid spread of the virus has caused the postponement and cancellation of 2020 football leagues and competitions as well as MICE events. Organisers and cities expected to host these events sought to mitigate the derived financial implications and simultaneously design a comeback plan or an alternative approach (such as hosting online formats) to ensure their financial situation did not take a massive blow.
All stakeholders in the football ecosystem will be forced to adopt severe sanitary measures that will challenge their normal operations and surely increase their operational costs. For example, venues will need to comply with social distancing requirements that minimise exposure, clubs will be affected in varying degrees depending on their reliance to the different revenue streams, and players will need to re-negotiate salaries to reduce one of their biggest expenses.
All countries worldwide have experienced the harsh impact of Covid-19, and nations are adopting similar measures to try to control it. Experts argue that recovery times will vary region by region, however the greater effects are expected in Europe, Latin America and North America. The Pacific, Middle East and several Asian countries have shown more control through lockdowns and other imposed restrictions.
On the positive side, experts appreciate the combined efforts that properties and brands are making to turn the Covid-19 challenges into new opportunities in order to remain relevant in the market. One significant opportunity has been the rise of the digital to provide content, create online competitions, and participate in eSports to keep their fans engaged. "Phygital experiences" – a combination of the physical and digital world shown through augmented reality and fantasy game offerings that rely on big data – have been implemented at an accelerated pace to maintain fan involvement.
Experts suggest properties will turn to their own OTT platforms to be able to adapt the frequency and type of content provided to the fans according to their demands. In a similar vein, to ensure a risk-free experience, properties will invest further in technology that minimises the main contagious moments while building on a competitive advantage. Opportunities include converting operations to cashless, providing geo-localisation services, increasing the use of blockchain technologies that ensure cybersecurity, and developing tokenisation processes to maximise the fan experience.
The report conducted by World Football Summit and SPSG Consulting together with leading experts in the football industry, which you can download for free on THIS LINK provides valuable insights into the multiple challenges the pandemic has created on a global scale, and how sports properties must respond in order to mitigate their financial pressures and maintain fan engagement. This has provided both brands and properties the opportunity to be innovative in order to remain competitive during the rest of 2020 and in the uncertain years to come.