Talent is at the root of any business success. Similar to what happens in any industry, at the core, every football-related strategy is dependent on results. Whether it is from an "athletics" or a "business" perspective, talent is the key enabler for growth. This is why at World Football Summit, we deemed it necessary to include a new track in the face of this year's event that covers all aspects of player performance, from on-field execution to mental wellbeing.
Therefore, the search for talent plays a critical role in any football organization, and the rise of globalization and the emergence of new technologies has taken this "treasure-hunt" to a whole new level. Clubs will explore every last corner of the world in an attempt to capture a "hidden gem" that will change the direction of their organization's future.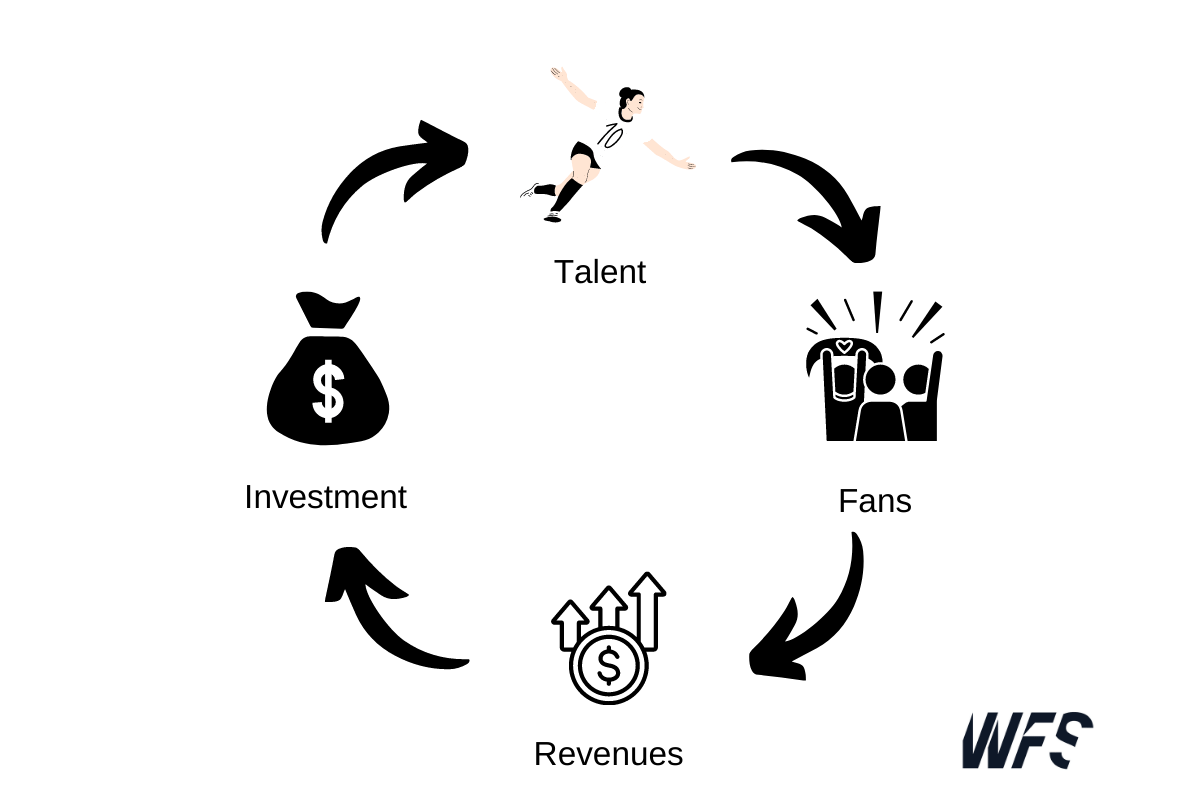 Once these "diamonds in the rough" are found, the club will put all their efforts into making sure that the player has a long and injury-free career, trying to get a return on their big bets. However, as time has passed, football organizations have become more aware of the importance of not only investing heavily in players but also in technologies and programs that optimize their development and performance, beyond just physical aspects of the game. Nutrition, sleep, recovery, and mental health awareness are finally being taken into account when it comes to player wellbeing.
This dynamic, along with the emergence of new products and services rooted in AI, Big Data, etc. have propelled the "athlete performance" industry to another level. All over the world, we see examples of businesses that are quickly dominating the performance space and signing partnership deals with the biggest football properties in the world. Whoop, Pixellot, or Hyperice are prime examples of this, but it seems new business models emerge "by the minute."
As Professional Triathletes Organisation (PTO) athlete and scientist Thomas Roos, upcoming WFS Europe Speaker, puts it: 
In top tier football, performance is everything: too many clubs/teams spend 25-50% player salary on athletes that are injured or underperforming. You can't sell tickets, sponsorship, broadcast rights, merchandise, nor NFT's when your star athletes are injured or underperforming.
Therefore, investing in optimizing player availability through enhancement of their development, performance, and wellbeing is far more important than may be initially considered as it ends up being a return investment for all involved parties. Because of this importance, we have devised the following panels for WFS Europe:
1. Scouting for more: Key stakeholders in securing top football talents of the future
What is the role of technology in identifying future talent?
It seems like every day a new scouting technology is created and put out to the market, but this does not make life any easier for clubs. In fact, it can even become overwhelming and, as Ben Smith from Chelsea explained during Football Innovation Forum, the strategy comes first, and then the technology needs to support that strategy.
There are so many new opportunities and methods to implement technology. We are a lot more intelligent about what we do and what we don't do during scouting. There's a clear strategic intent from the ground up. We assess all technologies to see how they best serve our plans.
Companies like Pixellot and AIScout, who was a partner for the panel focused on player performance where Ben participated, have revolutionized football. The former is creating a mode in which the technical staff can keep track of players' every movement, both in games as well as training sessions through cameras that include AI ball tracking, automated game highlights, and video analysis. A clear example of this, while not related to football, is found in Deni Advija's preparation for the NBA draft using Pixellot technology.
The latter offers players all around the world a way to showcase their talent without having to wait for a scout to come and watch them live, they can upload their highlights to the app and hope for new opportunities to arise.
Pixellot has become a clear sports industry leader, having secured important investment rounds lately and AiScout is quickly coming up in the ranks within its industry. In fact, they were granted an award during WFS Europe 2021 and they explained their model in an exclusive conversation with WFS Digest back in April.
2. Understanding the Importance of Wellbeing & Recovery for Top Performance
After successfully acquiring new talent, how do teams get the most of out it?
Thankfully, society and football organizations have become more aware that what happens off the pitch is just as important as what happens during the 90 minutes. This is where wellbeing, both mental and physical, and recovery come into play. 
Companies like Scarab have discovered an important need for a more accurate way of measuring and boosting the technical and cognitive skills of football players which includes an analysis of their decision-making, execution time, and ball-handling among other important areas.
Other companies, however, have centered their attention on the application of infrared thermography in sports, health, and research sectors, such as ThermoHuman, which allows experts to get a better idea of the complete metrics for over a hundred parts of the body, helping athletes to recover or prevent injuries.
But as mentioned before, wellness is not an exclusively physical factor, mental wellbeing also needs to be taken into account. Countless athletes have spoken publicly about how mental health can affect one's performance, amongst those: four-time Olympic gold medalist, Simeone Biles; NBA All-Star, DeMar DeRozan; or footballers such as Everton's Dominic Calvert Lewin who recently stated that "talking saved his life". WFS also talked to ex-Manchester United player, Luke Chadwick, about his struggle with mental health when he was playing at the 'Red Devils and how parents should not pressure their children when it comes to "going pro".
Another component that can be fundamental in an athlete's performance is their recovery process and rest. Many have stated the importance of getting a good night's sleep, and not only that but making sure that the conditions for this rest are optimal. Atlético de Madrid and Spanish National Team midfielder, Marcos Llorente, has voiced how crucial it is for him and his career to be well-rested, revealing that he sleeps in a personalized bed that reduces natural wear and tear on the body in a natural way. 
Important apps and technologies have been created in recent years in the field of recovery. From Hyperice's massage devices that help relieve the muscles, to Whoop's state-of-the-art technology that measures round-the-clock athlete stats that focus on strain, recovery, and sleep. The Whoop App has recently introduced a new feature for women, allowing them to gain advice on how they should alter training, sleep, and recovery depending on their different menstrual cycle phases. As Kristen Holmes, Vice President of Performance at WHOOP and upcoming speaker at WFS Europe, explained:
"We want to help people gain more control of their autonomic health. And I think there's an incredible opportunity, specifically as it relates to female physiology, to really provide a new layer of insight that will help women train smarter, sleep smarter, and recover faster." 
Just how big is the wellness industry? 
If we focus on Whoop as an indicator, the company was able to raise additional funding in 2021 and it brought, according to Techcrunch, Whoop's total funding to nearly $405 million, helping them reach a $3.6 billion valuation. These numbers help justify why we are including this topic at our event…
3. Athletes versus AI: Where does data draw the line in sporting performance?

Finally, which technologies can impact the industry most in the field of performance? Given its ability to learn from the past in order to establish potential future scenarios, it seems fair to say that AI is among the top ones.
With so many new AI businesses emerging almost daily, it can become difficult to draw a line as to where and when it is all becoming too much. Data is useless if it is not being used in a useful way, which is one of the main ideas that Elias Zamora of Sevilla FC shared with us at Football Innovation Forum:
When people speak about data, you have to think about the word 'information'. Data has to be helpful – how does it help me to achieve my targets? The key point is the question that my information solves.
Therefore, it is of the utmost importance that this data being provided by AI actually answers valuable questions that sports organizations need to continue enhancing athlete performance.  Some of these questions include: 
How will my players perform next season under a particular set of circumstances?

Is there a way to prevent an injury or plan for peak performance?

Is it possible to determine the best way to prepare for a given game?
Such is the need by football clubs for this type of information that an entire industry has emerged around it. On one hand, companies like Olocip, founded by ex-Real Madrid footballer Esteban Granero and a future speaker at WFS Europe, help players at the individual level answer some of those questions and get the most out of their playing careers.
Ultimately though, as Elias also mentioned:
"The collective behavior of the team affects the player but the player themselves impact the collective behavior."
This is where companies, like FlyFut, who have worked with the likes of Atlético de Madrid or CD Leganés come into play. Through their AI-powered drones, they have become a powerful tool in the tech stack of several coaches across top-tier football leagues. In fact, you can find out more about their technology on the following decks they shared with WFS Digest:
FlyFut Autonomous Drones 1 – Which shares an in-depth analysis of the issues around recording training sessions
FlyFut Autonomous Drones 2 –  A document that explains how to overcome those issues
Moreover, this video is a perfect demonstration on how their technology works (You may need to introduce the wolds "Video Render" to see it properly).
Another aspect to consider is how different technologies can be combined to multiply the results teams get from them? Precisely Luis Llagostera, from FlyFut, shared his point of view with WFS Digest about the potential that AI & drone technology will bring to the industry:
The combination of drone technology and artificial intelligence will be the biggest revolution in the history of football, both at the amateur and professional levels. At the amateur level, it will allow those players to have very professional monitoring, which is something that has never been seen before. And at the professional level, the accuracy of recordings and the data extracted from them will enhance the performance and learning of players and coaches at all levels.
Autonomous drone technology is about to arrive at the top of professional soccer. As has happened in other sports with other technological advances, the first clubs to integrate this technology will be tomorrow's winners.
There are already real cases where the correct application results in conceding at least 0.92 fewer goals per game (CD Leganés B in the 19-20 season).
Atlético de Madrid however, is the club that has integrated best drone technology into its methodology. It is no coincidence that it is the club that has grown the most and the best in the last 15 years. They have entered a spiral of good decisions and this is reflected in all areas of the club.
The combination of drone technology and artificial intelligence will be the biggest revolution in the history of football, both at the amateur and professional levels
Olocip and FlyFut are just two examples of an industry where, in sports only, it was valued at $1.4 billion in 2020, and is projected to reach $19.2 billion by 2030, growing at a CAGR of 30.3% from 2021 to 2030.
The potential is massive and expectations are very high in terms of what AI technology can bring to the football industry. 
We are aware though that this analysis only covers a fraction of the trends, companies, and general information about the performance industry. This, though, is the main reason we felt obliged to include this panel in the line-up for WFS Europe, where top-tier speakers will share their knowledge and expertise around the topics that help maximize the output of the most valuable asset of any sports property, the players.