World Football Summit speaks exclusively with ex-Manchester United midfielder Luke Chadwick about confronting mental health issues and putting the fun back in football. This interview features as part of the latest edition of WFS Digest, our new insider's guide to the latest and most relevant thoughts and practises from within the football industry. You can subscribe to WFS Digest HERE.
Like so many former footballers, ex-Manchester United midfielder Luke Chadwick struggled to find his place in the world after retiring in 2016. He shared the common assumption that coaching was the natural path to take after hanging up his boots, but soon realised that the seriousness of it wasn't quite his cup of tea. After a playing career filled with ups and downs, he also felt that someone should break the taboo of football players who experience serious mental ailments and never disclose their true experience. Chadwick decided to join Football Fun Factory, ​​an organisation that aims to be "on the doorstep of the children across the United Kingdom, creating fun football opportunities for everyone."
Some time later, during the pandemic, he talked openly about his own mental suffering during his years as a player because of bullying in TV and the media. "There is a lot of talk now about player care, which is always good, but in my eyes there's not enough action," he explains during a conversation with WFS Digest.
"Education needs to be provided, so that when you go into adulthood you can understand your feelings and have better emotional intelligence, allowing yourself to be vulnerable."
World Football Summit: What was the trigger that got you involved in a project like Football Fun Factory?
Luke Chadwick: When I retired from football, I really struggled to know where I sat in the world and what to do next, so I went down the coaching route and got my qualifications. I went into coaching at a professional club which is what I just assumed I would do as an ex-footballer, but I didn't enjoy it. I didn't enjoy getting out of bed every day, I didn't see what the benefits I was offering were.
A couple of friends of mine were setting up Football Fun Factory, and it really encapsulated what I had felt as a young player when I started out at six or seven-years-old. It was all about fun and enjoyment back then. I don't remember any tactical information, I just wanted to go and run around with a big smile on my face. That's what we have tried to incorporate at FFF; it's for everyone, both boys and girls, regardless of their ability. We want to give them the opportunity to play football and use it as a vehicle to develop positive life skills: sportsmanship, communication and teamwork, which is much more celebrated than the kid who scored 20 goals in the session.
WFS: Some of the world's biggest legends, whether it's Lionel Messi, Diego Maradona or Pele, loved their infant years playing football and frequently talk about them. Do you think that kids enjoy football less now that they did 20-30 years ago? Is this why you initiated the project?
Chadwick: It was a massive driver behind the project and what we're trying to achieve. There is some fantastic work that goes on at professional football clubs, but it's more geared towards the players with the most ability, and the ones who may earn the club some money down the line. However, 99% of kids get dropped along the way and we want to make them realise that the best part of this is having fun and ensure that not only the top one or two per cent get access to top coaching. Football is for everyone, not just those who have an opportunity of making a career out of it.
Football is an incredible social tool too. When I was growing up, I would just go to the park and play with my friends, and that doesn't happen as much anymore. That's why this is just as much a social programme as it is a football one. There is a real community feel about it, not just mum or dad at the side of the pitch telling their little one to get stuck in, but rather parents coming together to meet and socialise whilst realising the culture of Football Fun Factory. I think we all need a social release after the last two years, and socialising at that young age is what so many children have missed out on during the pandemic.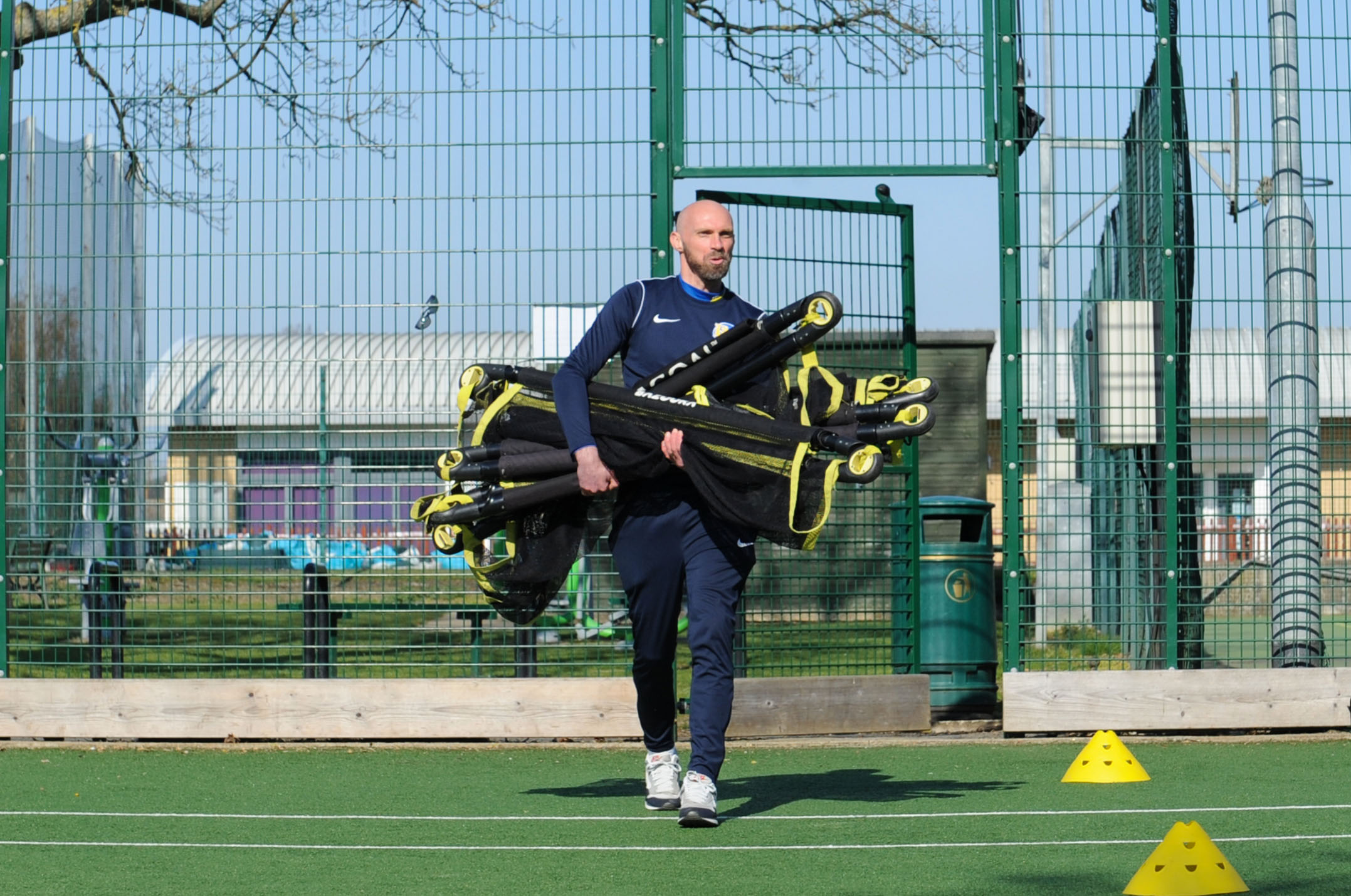 WFS: What happens if you find a talented kid?
Chadwick: We have many children of all abilities; some have never kicked a ball in their lives, whereas other more gifted kids come to us for supplementary sessions which are probably completely different from what they're used to at their development centres.
We work closely with local clubs, so that if a child wants to move on and play more competitive football, we signpost them to the place we think is best suited, but not to professional clubs. We judge our sessions on the children leaving with a smile on their faces after having had a good time.
WFS: Nowadays, you see too many 12 or 13-year-olds that are burned out from trying to become the next Mbappé. Parents' roles are critical and sometimes dramatic. Do you ever try to coach parents?
Chadwick: I 100% agree. When I was growing up, I had no pressure put on me, I just loved football. My mum and dad couldn't get to many games, but I realise that it probably helped me as I didn't have that pressure. However, when my eldest son started playing, I was a terrible football parent, I couldn't understand why my son didn't take it as seriously as myself and it took me a few months to realise that you've got to let them fall in love with the game. If you don't love something, you're not going to progress, and it's important to fall in love with sports because of the benefits it has on your mental health.
I've witnessed how parents try and live their lives through their children and make them the next professional football player. But we don't do that at Football Fun Factory; we make it clear to all the parents when they sign their children up that we're not a grassroots team. It's a case of education, because parents can be what hold the children back by wanting it more than they do, which can have a negative outcome and make football feel like a job for them.
WFS: Player care has become a frequently used term in the UK. Do you think clubs have opened their eyes regarding protection of those children who don't make it?
Chadwick: There is a lot of talk about it, which is always good, but in my eyes there's not enough action. There is a one per cent window of children who go into the professional game, and even those who do probably don't get the support they need.
I remember coming through as a pro and seeing myself purely as a footballer – it was all I was. I had no understanding of myself or any emotional intelligence. That's why we need to give education to all, but especially those who've been at a club since seven or eight and are suddenly released without that after care. But even more important than the aftercare are the lessons that come before that, the understanding that there's only a slim chance that they'll make it. There's nothing more important than the understanding of self and not putting all your hope on becoming part of that small percentage that succeed.
WFS: Over the past 12 months, you have trebled in size, with new franchises opening across England, Scotland and Wales. What's the next goal for Football Fun Factory?
Chadwick: We have a huge ambition of becoming the world's leading children's coaching organisation, and of course we are humble enough to know that it's a long way away. To have FFF all over the world and see children in bright blue and yellow jerseys running around enjoying football is the goal.
 WFS: You came out famously in the press two years ago talking about how players' mental health should be protected. Why did you do that?
Chadwick: I wanted to add something of value at a really strange and hard time in everybody's lives with the beginning of the pandemic. Being in lockdown, I'm sure many people's mental health fluctuated to some extent. I know I'm not a huge superstar that everyone is going to listen to, but all I wanted to say is that back when I was suffering years ago as a footballer, I found it so hard to talk about my problems. However, if you find someone to open up to, it takes such a massive weight off your shoulders.
As a young footballer the abuse I received about my appearance affected my mental health a lot.The feeling of embarrassment stopped me talking about how I felt.

Although uncomfortable at times,it's so important we talk about our feelings to get through the tough times! ❤️ pic.twitter.com/gNhQRoQG4u

— Luke Chadwick (@Luke_FFF) May 5, 2020
WFS: Were you surprised by the reactions and apologies?
Chadwick: I was incredibly surprised by the reaction. In regards to the apologies, I think it came away from what I was trying to say because of the way it was written about afterwards. I wasn't trying to blame anyone, I have no grudge against anyone, and I'd like to think that if they knew how I was feeling at the time, they wouldn't have done it. 
I wasn't expecting the reaction or so many people reaching out and saying how much it has helped them. That's probably the best feeling I've had, better than scoring a goal for Manchester United. Finding out that your words have helped other people in their struggles was such a rewarding thing to hear.
WFS: What specific measures do you think clubs could really implement in order to really make a change?
Chadwick: I think something needs to be put in place for younger players. I talk about it in footballing terms, but it's the educational route we have to think about. It's so important to have an understanding of yourself. In football, at least in the UK, everything is reactive rather than proactive, measures are put in place after arriving at that crisis point. I don't have all the answers, but there's probably not a more important subject than yourself: some education about that needs to be provided, so that when you go into adulthood you can understand your feelings and have better emotional intelligence, allowing yourself to be vulnerable.
This interview features as part of the latest edition of WFS Digest, our new insider's guide to the latest and most relevant thoughts and practises from within the football industry. You can subscribe to WFS Digest HERE.