Ivan Codina, Managing Director SEA – Australia, Japan & S. Korea of LaLiga, was one of our speakers at the first edition of  World Football Summit Asia. After the event, we sat with him to talk about how LaLiga has transformed in recent years and the exciting prospect of the Asian market for the football industry.
First of all, how did a Spanish ice-hockey player end up working for LaLiga in Singapore?
I have a double-degree in Business Administration and Sports Marketing, plus a master degree in Sports Management. Since I always knew that I wanted to work in the sports industry, the last few years before finishing my career I was combining hockey and corporate work. My first job was at the Marketing department of David Lloyd, which is a sports club in Barcelona, and from there I moved to Singapore, where I developed my career in the sports industry corporate world.  After working with the Youth Olympic Games in 2010, I signed for an agency called Red Card for three years and from there to Dentsu, where I developed most of my expertise in the football industry and became the head of the Football Business Unit. 
About three years ago, LaLiga offered me to lead the project for the region and start the Singapore office. Now we have an office with six staff members and 10 delegates across Asia that also works with the office to cover Southeast Asia, Japan, Korea, and Australia markets. 
A lot of changes are happening in LaLiga for the last couple of years, especially when it comes to expanding markets. How do you see that?
One of the greatest things Javier Tebas has done for LaLiga was that he said that we could no longer rely only on the domestic market and on the Latin America market. We needed to go global. Since he joined LaLiga, the Singapore office is the fifth office in Asia. We have the office in Dubai, that covers the Middle East and North Africa, and then we have two offices in China, one in Shanghai and a smaller set up Beijing that cover greater China. We have India, in Deli, that covers India and the South of Asia, such as Pakistan, Bangladesh, Sri Lanka, etc.
That tells you a little bit about how ambitious our project is to go for a larger audience. Our main objective is to come closer to the fans in Asia, and of course be closer to the different stakeholders we have in the market, especially broadcasters, commercial partners and domestic leagues. But the most important is to get closer to the fans in this part of the world.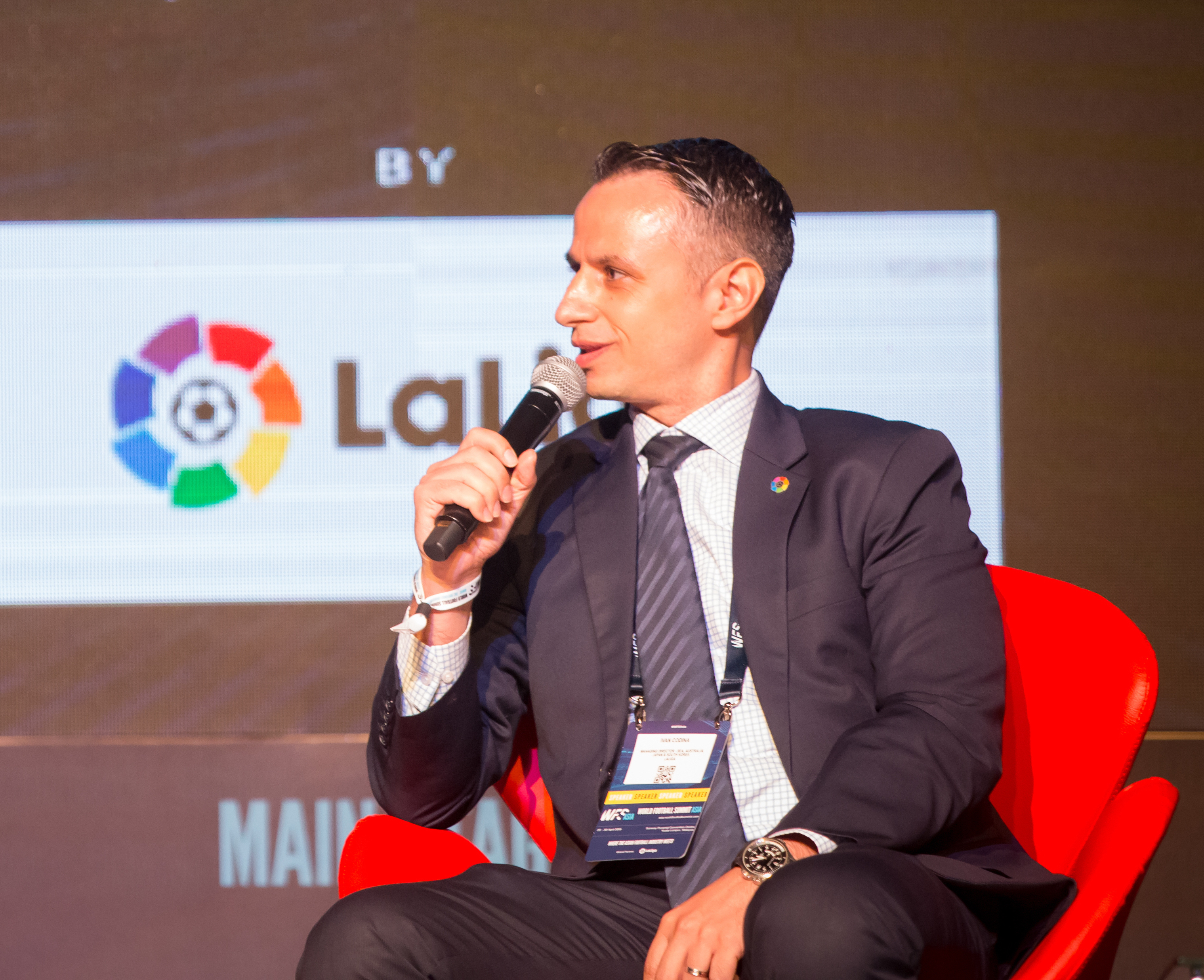 You have big competitors, such as the Premier League, but not only in football. What is LaLiga doing to increase its competitiveness in the expanding and changing entertainment market?
We do not consider ourselves as a traditional football league, we actually consider ourselves as a sports & entertainment company. So, that means that our competitors are not just the Premier League and the NBA, they are also Netflix, HBO, or any other sort of entertainment… we actually compete for the spare time that people want to dedicate to entertainment.
We have diversified our portfolio very much. With the project LaLiga Sports, for example, we sponsor almost 60 national associations in Spain, from different sports, and in return, we get some of these athletes or teams to become our global ambassadors around the world. In this part of the world, badminton world and Olympic champion, Carolina Marín, can be a good example because badminton is a very important sport, especially in countries like Indonesia, Thailand, India or Singapore. And it becomes very relevant when Carolina is seen as a LaLiga ambassador, that allows us to be more relevant to a broader spectrum of fans, not only traditional football fans but fans from badminton or maybe Formula 1 with our partnership with Renault.
How has the market in Asia evolved, especially for football and other sports? Because the industry, by the indicators, seems to grow a lot. Do you think we are going to reach a ceiling?
I think it's a great moment for the Sports Industry in Asia. Let's not forget that Asia has a big part of the world's population and, in the end, we have markets very different from each other. Sometimes people want to put all the Asia in one pocket, but it's actually not true. You cannot compare what's going on in China with what is going on in some less developed markets in Southeast Asia or what's happening in India. Especially if we just speak about football, it's completely different. 
That's why for LaLiga it's important to have a global strategy. We know what works on a global level, but then we have to be conscious to make sure that we have a localized strategy market by market. The industry is now in a much better stage than a few years back. If we speak especially about football, there is a lot of countries that are picking up. China is still far from being a global or powerhouse, but you can see the improvement and that they are trying their best to become competitive, as soon as possible, for the World Cup in 2030, which they want to host. According to their president, they actually want to win it. You can see they are working in that direction.  You can see it in Qatar, it's something quite impressive that they were able to win the last Asia Cup and just preparing themselves to host the next World Cup.
If we speak about football, you can see that the level of some of the individual Asia countries is growing. We have a huge impact on Wu Lei playing in Espanyol.  But we also have two other very good Japanese players playing in LaLiga at a very good level. We will see more and more Asian talent coming to Europe. Now it's time to develop the football industry because it's great momentum. 
Can you share your thoughts on the first edition of WFS Asia?
We have been official partners of the WFS for a few years already. Nobody can doubt that when we talk about WFS in Europe it has become a football conference with a huge network and level of speakers and relevant topics that are always discussed at the conferences. I think the first edition of WFS has been a great success and has confirmed that WFS is a global platform to engage with relevant stakeholders, not only in the football industry but in the sports industry in the region. That allows people that are still trying to get into the industry and identify what are the opportunities to everyone in the industry. We are really happy to be part of it, because being a key player, and making sure this is going to happen, is very important to LaLiga. That allows people that are still trying to get into the industry to identify what are the opportunities to everyone in the industry.
In LaLiga, we are really happy to have become an important player and contributed to this important milestone in the development of the Football Industry in this part of the world, this is very important for us.