In another conversation with a change-maker that is using football as a platform to drive social change, we sit down with Drew Chafetz, co-founder and CEO of love.fútbol.
They are an NGO with a very clear mission: Giving kids a safe place to play football.
They currently have more than 50 projects across more than 15 countries and they work with some major brands including Manchester City, ESPN, Coca-Cola, and Amazon.
As we have done in the past, we wanted to share the audio conversation as we believe you will more value from it, and below, are some of the answers that give you a glimpse into the topics we covered.
These include the way they identify where to implement new projects, what they have learned from working with those leading brands, or the traits that business leaders need today.
Enjoy!
WFS: How do you choose where to set up a new project or where to pursue a new opportunity? 
Drew Chafetz: Absolutely we've done projects in I think about 23 communities across Brazil now. And some new models that have helped us reach over 70 municipalities across the country. But today, we've done projects on five different continents, and in completely diverse environments, and there are really a few main criteria thematically that help us select locations.
And, of course, most of our projects are funded by partners, most commonly, corporate sector partners, but as you know, they often have interests as well, that we work to align with.
But the criteria are really:
The mission is determined by the level of need: What are the existing availability of places to play? What are the conditions of those spaces, you know, how do kids access them? What are the local demographics? There are kids who don't have other opportunities to play football, which is one of the most simple, important opportunities globally.
Community partnership potential, both regarding executing a project, and then also sustaining that project. So, we assess things like local communities, strengths and skills, and resources. Then, through an asset mapping exercise, we seek to understand the local culture and history, what is the individual and collective leadership potential, both from formal and informal perspectives. What type of experience do they have collaborating around community projects? Ultimately the goal is to design a product with the community that is tailored to their local reality.
The third is construction complexity, making sure that, logistically, and from a budget and bureaucratic perspective, we are selecting a location that will be legally sound for a long period of time.
WFS: You work with big brands, sponsors, and corporations. They have resources, they have networks, and they help amplify the impact that projects such as the ones love.fútbol have. What have you learned from working with these brands?
Drew Chafetz: These brands have played a monumental role in our story and helped us not just reach the next community but grow and mature as an organization. With Coca-Cola, we've done a lot of projects in Brazil, but then around the world, in Egypt, with ESPN we've done projects in about 10 different countries. We have also worked with Unilever, Manchester City, Amazon, and we now have a new initiative with Disney.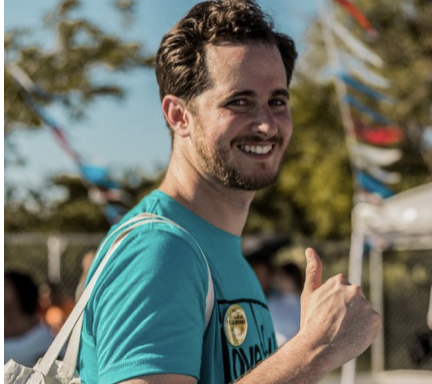 The most important thing we learned is to have the mentality of a social enterprise. What that means is how do you think about not just the social impact, which is the reason that we exist – our social mission- but how can those benefits that we create, from a social perspective be aligned with those commercial benefits that funding partners have.
(This is also something we covered in our conversation with Prof. Muhammad Yunus)
And so, I think, along our journey, we found that there really is a way to look at our partner's goals, and align them with those of ours. That is where we've had some real success; helping our partners see a return on investment for them beyond the social impact (building relationships with communities and key stakeholders that they care about, employee volunteerism, and building goodwill in new markets and with new partners that they care about).
And, you know, generally leaving a tangible social legacy. An event is kind of a one-time thing so we worked with them around leaving something that lasts, such as a football court.
So, we really see an opportunity in not just thinking about these collaborations as doing social good, which is again, our core purpose but how to do so in a way that's aligned with business objectives.
WFS: What are the key skills that business leaders need today?
Drew Chafetz: I think resilience must be on the list. It's not easy. You have to view challenges as opportunities.
Second, and I have to say this is something I'm working on improving every day, is empathy. It is a very powerful skill as you need to be able to look at people's circumstances.
Finally, being able to make the most of a tough circumstance. And I think, you know, when you can do stuff like that, you're going give yourself a shot at success.
If you enjoyed the conversation feel free to find out more about love.fútbol on their website or their social media channels (Facebook, Instagram, or Twitter)
This insight features in the latest edition of WFS Digest, our insider's guide to the latest and most relevant thoughts and practices from within the football industry. You can subscribe to WFS Digest HERE.