With the Super Bowl alone worth 663 million dollars in brand value, it's clear that the sporting industry is a global giant and is constantly transforming to keep up with the latest worldwide trends and technology, resulting in various new and exciting career opportunities that give fans and sports people alike the chance to combine their love of the beautiful game with a fulfilling and rewarding professional life.
Satisfying career paths within the industry are infinite, with new sports, new championships and new challenges being created all the time; the popularity of sporting events is reaching peak levels, creating more employment openings, for example, the UEFA Nations League was started just this year as a way to spread interest in football to more countries, with a coveted spot at the Euro's at stake.
The demand for tech savvy, skilled and qualified professionals to cater to these new and expanding fields is on the rise. Increasingly, companies are seeking dynamic individuals, comfortable in a global business environment, to fill new roles in areas such as team and club management, merchandising, sports event management and corporate sponsorship – to name a few. A field that has grown to be an essential part of the industry is social media management and communications.
Whether it is the Instagram profile of a professional athlete or a club Facebook page, the popularity of social media has called for professionals to start managing the way their image is portrayed to the public. Athletes and players, with their large social media followings and legions of fans, also make exceptionally good influencers, creating a new sector of its own with top brands investing in these individuals. Sports stars need a team of professionals to manage their media appearances and endorsements as well as people with a good working knowledge of the trends, etiquette and methods of influence to navigate the digital word of sport successfully.
Data analytics is another career in sport that has shown exponential growth, coinciding with technological advancement and is an exciting and interesting career choice that combines the action on the field with applied science. The profession has grown in importance since the use of data now affects all major areas in the sport industry such as player wellbeing, team strategy and selection as well as merchandising and sponsorship. A great example of this is the selection of football players for a team based on their conversion rate.
Various other professions within the market have also had to adapt to stay current. Areas such as product development, health and wellness, how brands and clubs market themselves as products and major sporting events have been undergoing a transformation to stay with the times, and so prospective sport professionals should redesign their skillset to suit new areas of expertise.
Professional players and athletes wanting to play an active role in the industry as influencers, coaches or club managers often pursue careers in sports management, possessing inside knowledge of the game and player dynamics as well as first-hand sector experience. Advancing tangible managerial skills is vital for their successful career. Education is a great way to do this; studying management to become more business-minded and learn efficient ways of operating is a step up in any industry.
This attitude is echoed by leading industry expert Francesca Mei who states, "being involved in the sporting world is no longer just a matter of being passionate and lucky; it is all about being knowledgeable of the market." With fifteen years of experience in the management of major international sport events, including four Olympic Games, her career has led her to specialize in the organization of complex multifunctional projects at international level.
She also places emphasis on understanding and staying abreast of technological developments. "Tech is key to grabbing hold of the millennials; clubs have more fans, more followers, and this would be a strongpoint for anyone wanting to get into and grow in the sports industry – this will give you an edge."
EU Business School alumnus Omar Berrada, Chief Operating Officer at Manchester City and Former Head of Sponsorship at FC Barcelona, was drawn to EU Business School, where he completed his BBA in Barcelona. Here he valued the intercampus exchange programs, the multicultural environment of 100+ nationalities and learning from lecturers with successful careers in the business world – offering him practical perspectives and methodology that prepared him for real-world business scenarios.
"The sports industry has become more professional over the last 15 years. In the past, you had people entering the world of sports without any specific knowledge of the industry, they just picked it up along the way. If you're able to do a course that specializes in sport management, then definitely do it. It'll put you at an advantage when applying for jobs," says Berrada.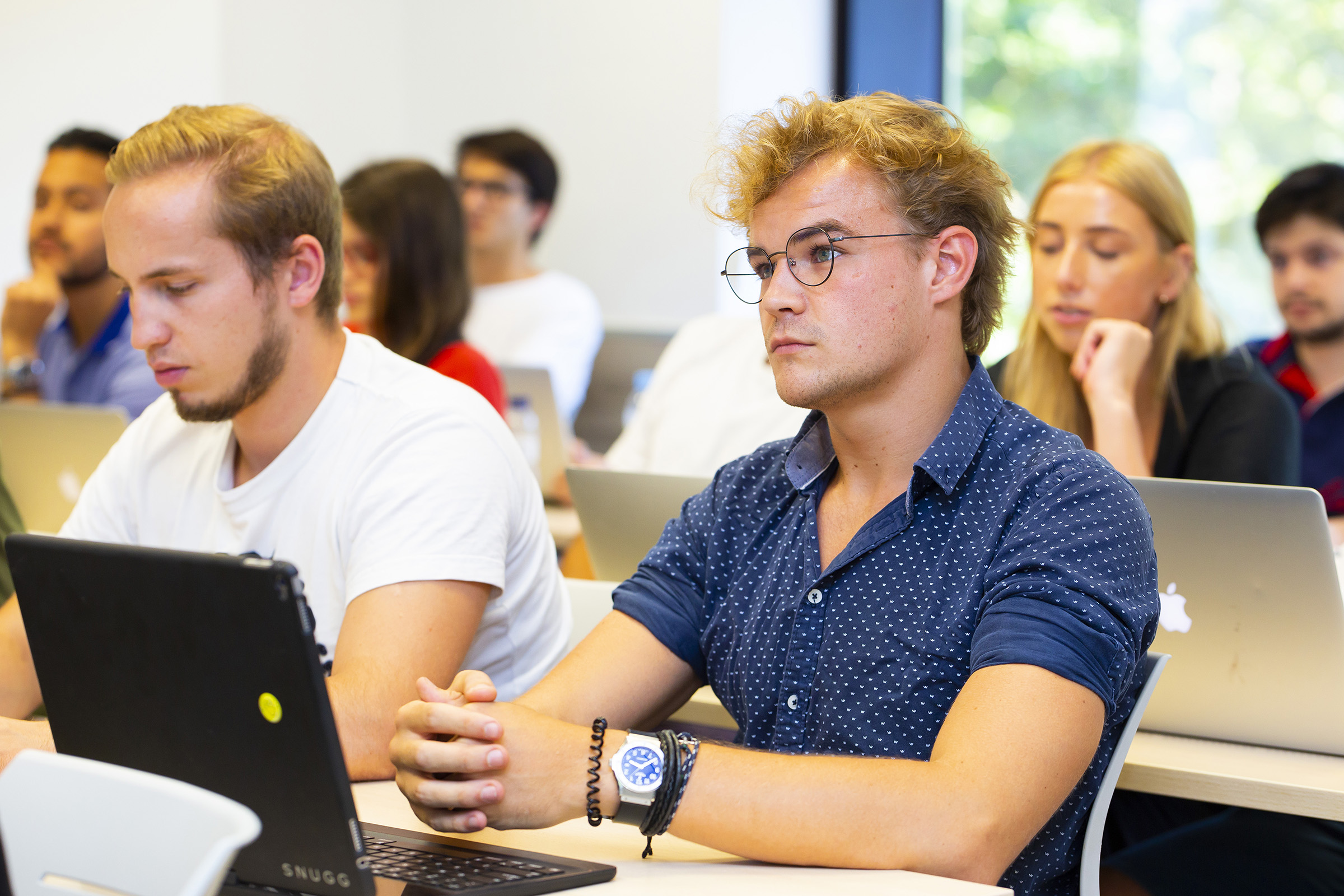 EU's Sport Management programs are tailor-made to mould students into future industry innovators and leaders through their proven method of experiential learning and offering of industry specific courses such as Sport Sponsorship, Sports Marketing Management, and courses focussing on the management of sporting events. Students end up well-prepared for careers in team and club management, marketing and promotions, media, public relations and corporate sponsorship.
Sport Management is offered on EU's campuses in Barcelona, Geneva, Montreux and Munich and provides students with a well-rounded education and opportunities to live in world-class cities and make friends from across the world. Shaping students' personal and professional skillset makes them the ideal candidates for any position in today's rapidly evolving and globalized world of sport. Our students aren't only quick thinkers, they are quick on their feet too! Our football team is the reigning champion of the 2018 Celebreak Football student league that took place in Barcelona.