To coincide with International Women's Day on 8 March, we are launching a new WFS Talks series of Spanish-language webinars, titled; Equality at stake – Adding talent to the game. 
At WFS, we are convinced that talent is not defined by gender and that the world would be a far better place if it had more equality and diversity.
That is why we're doubling down on our ongoing commitment to actively promote greater inclusion across the sports industry as we challenge it to have women in 25% of management positions and making up a quarter of director boards by 2025.
We believe in the potential of a network of women and men committed to equality and diversity to create social, institutional, political and economic improvement and that, together, we will transform the world. 
Sport is a remarkable tool for social change, and is able to hold up a mirror to society, which is why we're starting this journey with the launch of a new WFS Talks series of Spanish-language webinars, titled; Equality at stake – Adding talent to the game.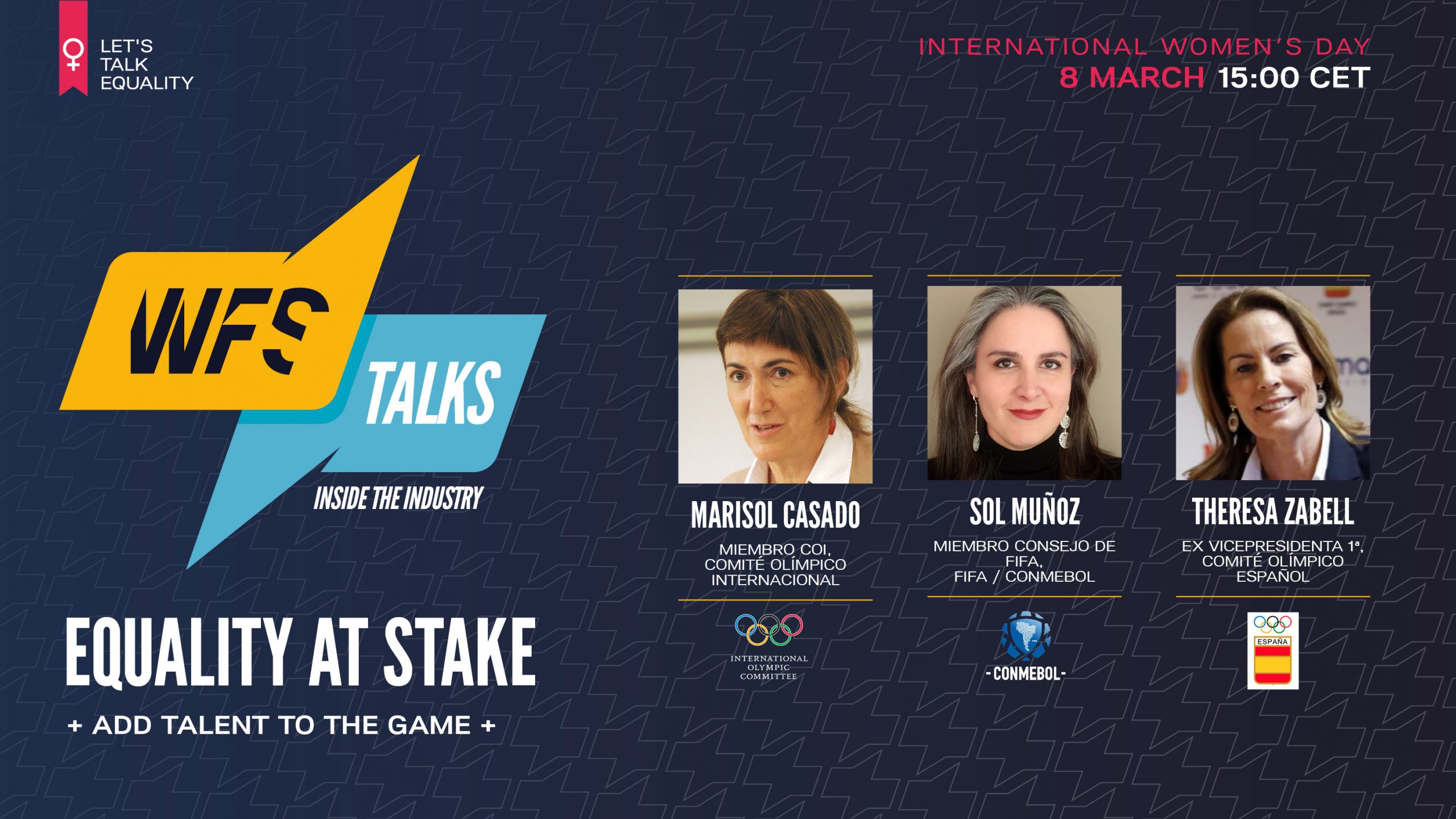 Starting on 8 March to coincide with International Women's Day, these roundtable discussions will give visibility to women who have achieved success, how they did so and the barriers they've encountered along the way, while also championing the excellent work being doing across football's various sectors to help drive this kind of societal change.
Our first edition will include three different panels on 8 March, titled; Leading off the pitch, Adding talent to the game, and Committing to women's sport. Already confirmed to speak at our mini-summit series – which will see us host further editions on the eighth day of each subsequent month – are Marisol Casado (Vice-president, COI), Sol Muñoz (CONMEBOL representative, FIFA), Olympic gold medallist Theresa Zabell and former Spain international Ainhoa Tirapu.
Further speakers will follow soon, and in the meantime you can register FREE for the entire series at THIS LINK.
A TASTE OF WHAT'S TO COME
We've been busy delivering two separate webinars over the past two weeks, which should give you a flavour of things to come next month.
First of all, we held a discussion on football's transfer market post-COVID in partnership with Player LENS that you can watch on-demand via our YouTube channel below.
WATCH NOW
And earlier this week we also got the equality ball rolling with a discussion between WFS Talents' Susana Camarero Benitez and LaLiga's José Guerra Alvarez.
Conducted in Spanish, the interview focused on how LaLiga continue to lead the way when it comes to gender equality and how there will be no let-up in their pursuit of delivering a level playing field within Spanish football.
IGUALDAD EN JUEGO – A NEW COMMUNITY
We're also delighted to announce a new community where we hope to foster equality further, with the launch of our LinkedIn group – Igualdad en juego so make sure you click on the link and join today.