It is undeniable that World Football Summit is the perfect place for professionals in the football industry to network and create business opportunities throughout the event. But what about the professionals who want to start their careers in the football industry?
We are aware that students are the future of our industry, and they too need to find the right relationships and connect with other professionals in order to further their careers and learn from the best. For years at World Football Summit we've offered a student rate for all of those who want to experience the biggest event in our industry when they are still studying, but this year we have a big announcement!
The new Student + Job Match tickets are available!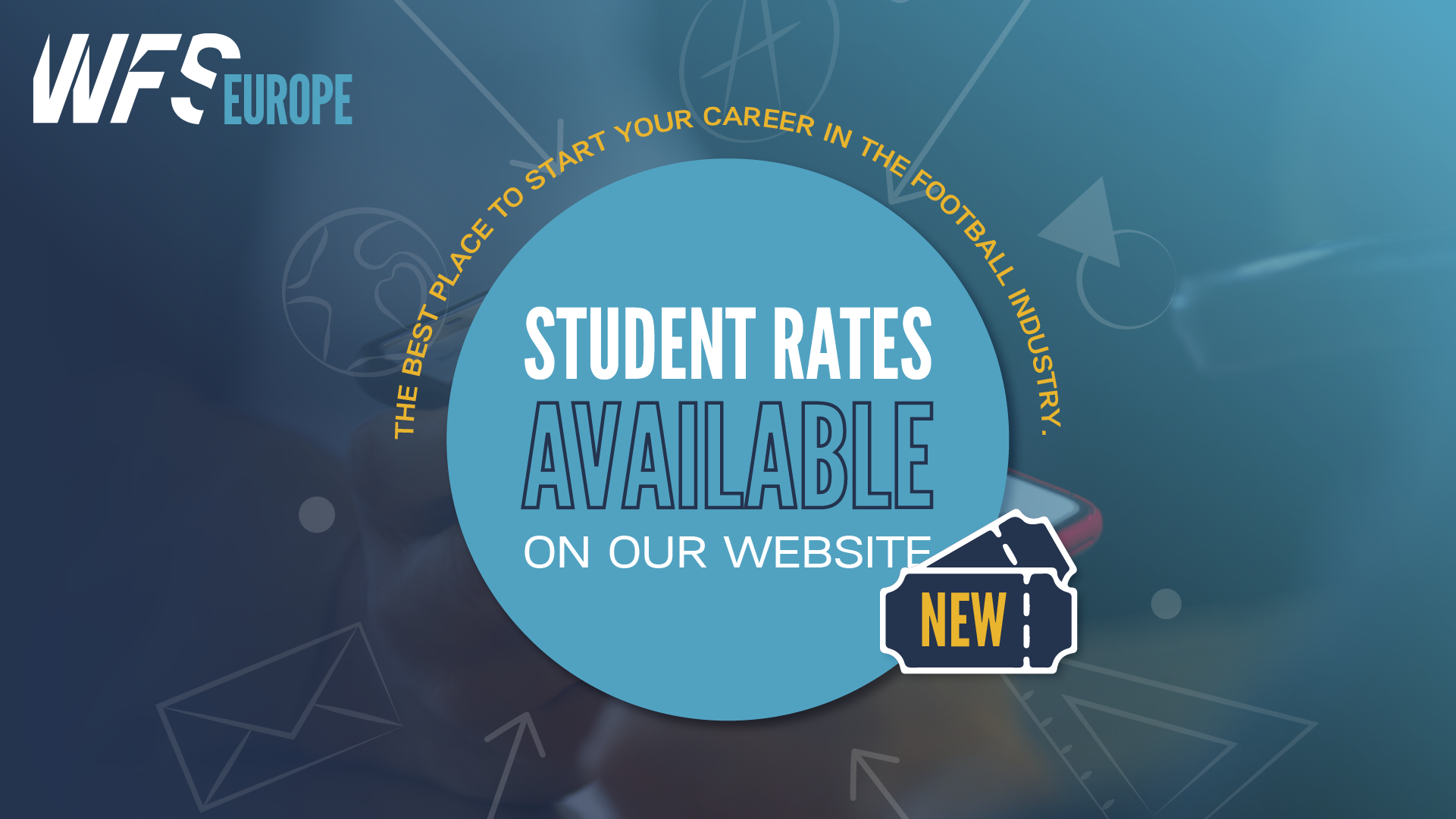 Currently, our Student Pass offers students the possibility to attend conferences and use the app for networking opportunities during the event.
But our new STUDENT + JOB MATCH tickets will help you get so much more out of the World Football Summit experience!
With this new rate, the opportunities are unlimited! Here's what you can expect from the Student + Job Match ticket:
Attend all the panels during WFS Europe.
Network through the app and the event
3 exclusive activities for students:

Special workshop: Tips & tricks to better prepare your career in the sports industry.
Exclusive sessions with approximately 15 companies in the industry, which will provide:

The chance to better know about the profiles and skills that the market currently needs / searches for.

See the different available options to work in the industry aside from clubs, leagues, and federations, including major brands sponsoring sports, agencies, tech companies, training facilities, startups, and so much more!

One-on-one encounters: This is a great opportunity to get in touch with brands and companies, in which each student will have access to meet with up to 3 companies and present their personal elevator pitch to them. Plus, each student will be able to leave with the contact of executives and/or the Human Resources team from brands for future opportunities.
This is a unique chance to further develop your career in the football industry! And this Student + Job Match ticket is the only one that will benefit from the advantages listed above. So don't miss the opportunity to attend one of the biggest business events in our industry!
Our Student rate is currently €260 and the Student + Job Match rate is available for €360! It truly provides you with an advantage over the prior rate and gives you so much more out of the World Football Summit experience!
As other students have said before:
"This is an amazing event to experience! It is a key encounter of the sports industry panorama. The most important people of the sector are here talking about the most relevant topics on the industry. I always followed this event via LinkedIn, Podcast or YouTube, but to be able to be there and participate has been amazing."
Are you going to miss it?

FAQs
Will I be able to do everything included in the Student Rate if I purchase a Student + Job Match rate?

Yes, the Student Rate covers access to all the panels, access to the app and the networking opportunities, while the Student + Job Match offers you those same perks as well as all the benefits from the Student + Job Match rate listed above.

What qualifies me as a Student?

To be considered as a student you should be currently enrolled to a university for a bachelor or master's degree or had graduated less than a year ago. Proof of enrollment or graduation will be asked for.

Will I need to show proof that I am a student?

Yes, all students will be required to show proof that they are currently enrolled to a university or that they have graduated less than a year ago.

What does the WFS app give me access to?

The WFS app will be your favourite tool during World Football Summit. First of all this will be where your WFS ticket will be available for scanning. Also, the app gives you access to our entire program, allows you to connect with other attendees and speakers, plan meetings to network with them and so much more!