WFS Europe may have wrapped up a month ago, but the legacy of the event will be felt for some time thanks to partnerships that were made at the Wanda Metropolitano stadium.
Purpose and action were again key themes of WFS Europe as it made its hybrid debut to over 2,000 physical (1,400+) and virtual (600+) attendees.
That saw a number of critical conversations on sustainability, the fight against discrimination and the fight for inclusion, as well as gender equality and the environmental crisis all take place at WFS Europe.
Whether via headline-making panels on the Main Stage and WFS Stage or across lively debate on the sidelines of the event and in the stands of the Wanda Metropolitano, those discussions have become a central part of World Football Summit events and were led by three major developments that will shape the football industry for the better moving forward.
WFS #GetOnside by making Women in Football pledge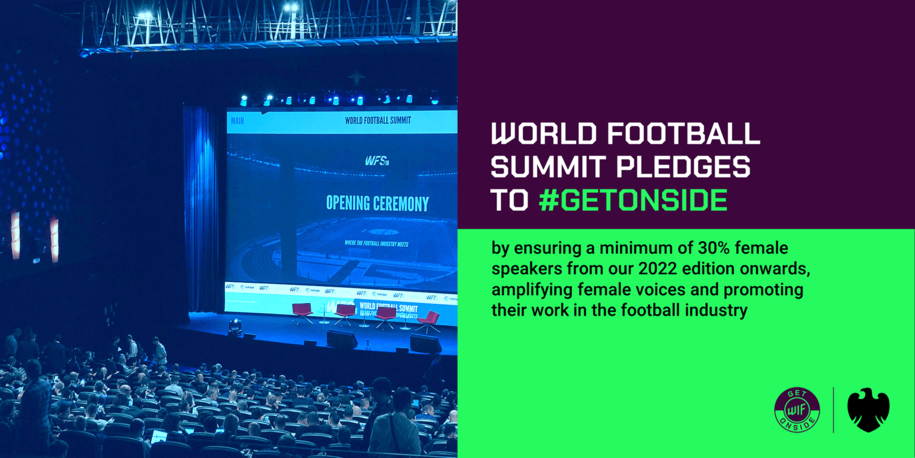 During the event, World Football Summit took up the #GetOnside pledge from long-term partners Women in Football, which is a rallying cry to the football industry to take concrete action that will contribute to an improvement for women and girls in the industry.
WFS' commitment will see us pledge that, from 2022's WFS Europe event in Sevilla, 30 per cent of our speakers will be women.
World Football Summit director Jan Alessie explained how the pledge comes as the latest in a number of steps WFS has taken to promote women's participation in football.
"WFS has held a long-standing commitment to empowering women in football ever since its beginning in 2016, with the subject of women's involvement in the game always playing an essential part in the debates that take place at WFS events," he said.
"Earlier this year we ran a series of webinars giving a platform to female voices in the industry and just last month we announced Liga MX Femenil as the winner of the 'Best Women's Football Initiative' in our annual WFS Awards. This awards category, dedicated to recognising outstanding efforts to promote the women's game, has been presented in partnership with Women In Football since 2018.
"Now, through this pledge to ensure that 30% of our speakers are women from 2022 onwards, we hope to give a platform for women in football that will create a pathway for others and show that it is possible for young girls to chase their dream and carve out a career in the beautiful game."
Spanish Association of Women, Executives and Sport launch
Day two of the event saw the launch of the Spanish Association of Women, Executives and Sport (Asociación Española de Mujer, Ejecutivas y Deporte or AEMED).
AEMED is an initiative personally backed by WFS director Marian Otamendi who will serve as the organisation's vice-president.
Otamendi, who was joined on stage by fellow Vice-President and Granada CF General Director Patricia Rodríguez, explained how AEMED would aim to ensure equal opportunities for women and men in sport.
"This Association aims to give greater visibility to women working in both business and sport, as well as helping pave the way for more women to enter the sports industry.
"This is why our core objectives include increasing the number of women who enrol on sports management courses and supporting female entrepreneurs looking to break into the sports sector."
DAZN joins Common Goal movement
DAZN and Common Goal – who WFS proudly support as a partner – used the WFS Stage to announce a global partnership to jointly tackle some of the most vital social issues of our time.
The pair's We can, so we must: uniting to deliver immediate and tangible social change through football panel saw the sports streaming platform reveal that they have become a Common Goal Impact Sponsor, making a multi-million dollar pledge alongside a 1% global employee time and resource commitment.
The partnership will focus on three fundamental and deep-rooted issues within and beyond football: gender equity, racial justice, and cultural diversity.
As well as using its content power DAZN will support several dedicated Common Goal initiatives that will directly reach tens of thousands of individuals – all laddering up to Common Goal's long-term goal of positively impacting 100 million young people by 2030.
Among the initiatives supported will be: Common Ground, Global Goal 5 Accelerator, the Anti Racist Project, and Play Proud.
"The Common Goal movement has shown that football can only fulfil its true potential as a force for positive change for people and planet when we work together," said Common Goal CEO and co-founder Jürgen Griesbeck.
"We look forward to getting to work on bringing the partnership to life and in doing so empowering girls, boys and young people around the world to fulfil their potential. We hope that DAZN's leadership inspires other industry stakeholders to join the Common Goal movement."