Turkish Airlines not only is the leading carrier that travels to more countries in the world, but they are also a "best-in-class" example of a brand that has effectively used sports sponsorship as a lever for global growth. Their partnerships with major sports properties including Euroleague Basketball, FC Barcelona, Manchester United, or more recently, their agreement to become the official sponsor of the UEFA Champions League speak for themselves.
In an exclusive conversation with WFS Digest, Ahmet Olmustur who is the Chief Sales & Marketing Officer at Turkish Airlines explains how the brand is leveraging the power of sports to connect more people around the world and how they approach their sports partnership strategy. In particular, we discuss:
The value they bring to the football industry beyond "travel"

The frameworks Turkish Airlines uses to achieve successful long-term partnerships follow the following structure: Objectives, target, partnership, and activation.

The lessons they have learned from working with some of the largest organizations in football include how to build a strong team mentality, the importance of paying attention to details and celebrating accomplishments as a team.
At World Football Summit we are excited to see Turkish Airlines join us for WFS Africa 2022 as the "Official Airline" of the event that will help shape the future of the African football industry, given that their mission to "Widen your Worlds" fully align with our mission of connecting the global football industry under one platform.
"Building a strong team mentality, attention to detail, and celebrating accomplishment are three key things we have learned from working with major sports properties."
WFS: Turkish Airlines is the airline that travels to most countries in the world, effectively connecting fans with their teams wherever they play or even leaders of the industry with colleagues. Why is it important to ensure that level of connection among different groups of people in today's world?
TA: As a Legacy Carrier we are proud of our vision of widening our world and placing the utmost importance on being the bridge between continents as the airline that flies to most continents in the world. Our aim to do this is to ensure we touch the lives of a variety of different people from all backgrounds, giving them an opportunity to connect.
As our marketing slogan  ''widen your world'' quotes, widening the World of our passengers is at the core of what we do.
WFS:  Given your legacy and history thus far, what can the football industry learn from a brand like Turkish Airlines?
TA: We believe Turkish Airlines has been an example of great dedication, determination, extensive planning, and hard work. Hence, we were able to become the airline that flies to more countries than any other in the world with an ever-expanding network in the world. We harness the unifying power of sports to relay our message "Widen Your Worlds" to the masses around the world.
WFS: Is there anything you have learned from working with some of the biggest brands in sports?
TA: Sports brands are as special as the sport itself therefore as a company consisting of a great family uniting devoted teams, we strengthen our existing skills within the scope of our relationship with sports brands we have dealt with so far, such as building a strong team mentality, attention to details and celebrating of accomplishment. Any great sports brand must adopt almost all mentioned above in order to be successful and working with some of them has enabled us to employ some of those same attributes.
Football always has had great importance for Turkish Airlines as is witnessed by our sponsorships to major clubs and tournaments. Previously we have been the Official Airline Partner of UEFA Euro 2016 and currently, we are the Official Sponsor of the UEFA Champions League for the 2022-23 season.
Our past sponsorships include but are not limited to Manchester United, Barcelona, and Borussia Dortmund football clubs. Lionel Messi, one of the leading players globally, has been our Brand Ambassador for a series of ads.
"Turkish Airlines has been an example of great dedication, determination, extensive planning, and hard work."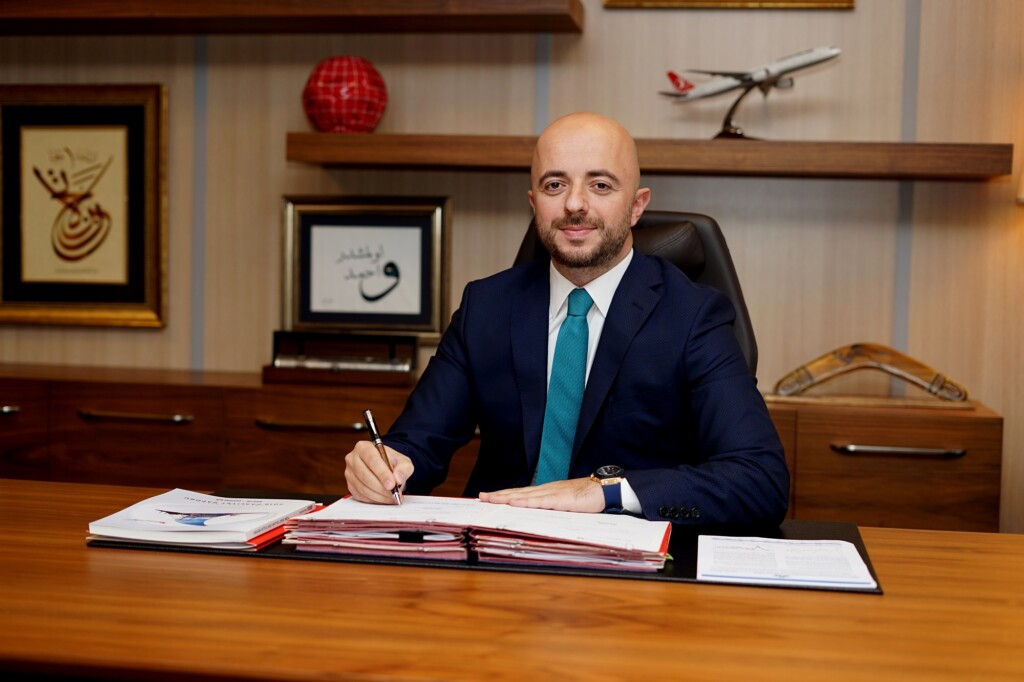 WFS: You are effectively the official airline of WFS, a football platform that brings the global football industry together with events in Europe, Asia, and Africa… How important is it as an industry to bring key stakeholders together and why have you chosen to partner with WFS? Why is it important to attend these types of in-person events?
TA:  Football is the greatest, most widely watched, and loved sport in the world, and WFS to bring so many stakeholders together in one platform is extremely important. Today's global world football requires global solutions. We believe such events as WFS deserves an appreciation for bringing so many different aspects of football together and addressing key solutions on a global scale.
WFS: Given your wide portfolio of agreements, what are the keys to a successful partnership in sports?
TA: First of all, to increase brand awareness you must define your objectives in a precise manner first of all in reaching the mass audience or a specific group.  In addition, it is essential to define your targets considering the market essentials and choose the right partner which is open to collaboration and willing to activate sponsorship deals in many ways that will provide the maximum benefit for both parties.
This interview is featured in the latest edition of WFS Digest, our insider's guide to the latest and most relevant thoughts and practices from within the football industry. You can subscribe to WFS Digest HERE.