The newly created Marcus Rashford Award has been created to reaffirm the legacy of Marcus Rashford MBE's child food poverty campaigning and will in future be given to athletes who use their profile to drive positive societal change.
To mark the life changing campaigning of England International footballer Marcus Rashford MBE on child food poverty in the U.K., World Football Summit is introducing a new award in the 23-year-old's honour.
The Marcus Rashford Award has been created by World Football Summit in partnership with Facebook, one of the social media platforms that played a major role in amplifying Rashford's cause.
Forming part of World Football Summit's industry leading WFS Awards, the Marcus Rashford Award will be presented to Rashford as part of the WFS Europe event at the Wanda Metropolitano from 22-23 September.
To reaffirm Rashford's legacy, the award will in future be given to athletes who use their considerable profile to drive positive societal change.
Subsequent winners will have driven similar societal change through anything from environmental causes to helping fight discrimination and improving the health and living conditions of communities all over the world.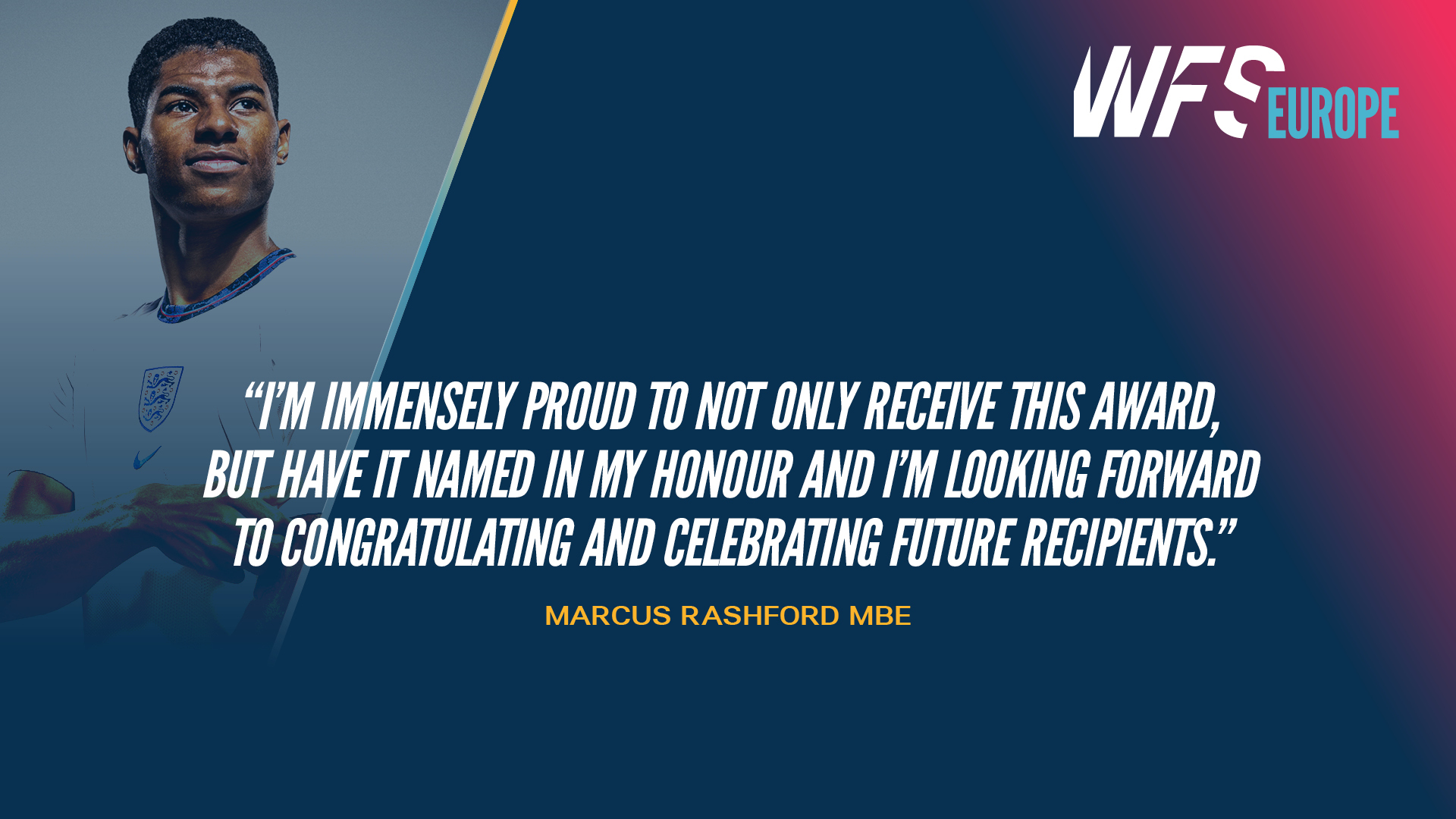 They will have the opportunity to follow in the footsteps of Rashford and get their hands on the prestigious new award that has been designed by innovative design brand Nagami and is made entirely out of recycled plastic recovered from the sea.
"I'm extremely proud to call myself a footballer and grateful for the vehicle it has offered myself and my family out of real difficulty," said Rashford.
"Had I never made it, my voice on such issues as child food poverty would have never been heard, so I'm grateful to football for offering me a platform to speak on behalf of the millions of children who are just like me. Living in situations just like me.
"You wake up every morning as a footballer and you decide what you want to do with that voice you have inherited through the game. I hope that those coming out of academies around the world, girls and boys, realise that they can very much be a positive vehicle for change should they wish to be."
"I'm immensely proud to not only receive this award, but have it named in my honour and I'm looking forward to congratulating and celebrating future recipients."
When over 1.3 million of Britain's most vulnerable children were directly affected by the British government's decision to end free school-meal vouchers over summer holidays, Rashford could not stand idly by.
His family had relied on similar programmes in his youth and his initial post on social media in March 2020 not only raised awareness of the issue, but it lit a fire underneath it. Rashford later penned an open letter to MPs that called on the government to "find your humanity" and that proved the spark that ignited a dramatic turnaround from Prime Minister Boris Johnson, who eventually signed off on a £170m package to support vulnerable families in England in just 24 hours.
Through Rashford's work with the charity FareShare, he has helped get more than 21 million meals to children and families who may not otherwise have eaten and launched the Child Food Poverty Taskforce – a group of more than 15 organisations that support the National Food Strategy and shine a light on child hunger in the U.K.
He was awarded an MBE in October 2020 and again shifted the spotlight from himself onto his campaign by calling on Johnson to double down on his renewed commitment. And Rashford is adamant that the fight is far from over.
Rashford added: "There is so much work still to be done and child poverty is far from over, with millions of young children not getting access to the bare minimum of human rights: food.
"Through the work of FareShare and the Child Food Poverty Taskforce, we will continue to campaign on the behalf of the most vulnerable families in the U.K. and we won't stop until every household in the country no longer has to worry where their next meal will come from."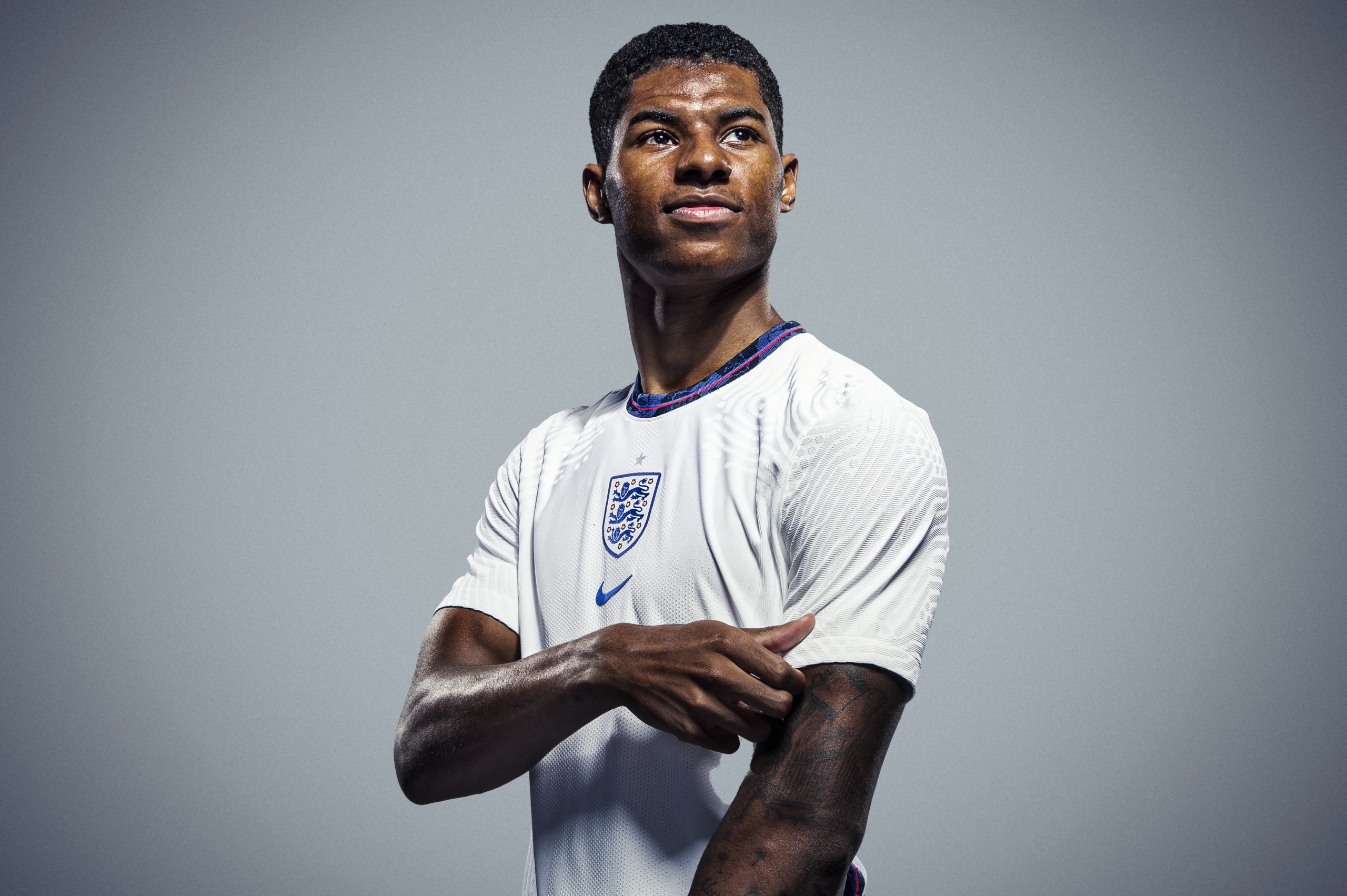 World Football Summit had hoped to launch the Marcus Rashford Award at WFS Live last year, with the idea eventually cemented by the discussions at the same event, which were dominated by industry leaders from all over the world relaying their own stories of how Rashford had inspired them.
Now, the Marcus Rashford Award has been created to both honour Rashford's work and contribute to the lasting of his legacy.
"Just like the rest of the world, we were enormously inspired by Marcus' efforts in fighting child poverty and bringing about important real-world change through his campaigning," said World Football Summit director Jan Alessie.
"Like Marcus, we believe in football's immense power for good and that's why Facebook are the perfect partners for this award as they share the same values as us in promoting greater inclusivity and putting purpose at the heart of everything they and we do.
"To honour Marcus' work with the Marcus Rashford Award is an extension of that. We hope it emboldens even more athletes and people in the football industry to follow Marcus' lead and make the world a better place for everyone to live in."
Rashford, who has over 25 million followers on social media – and more than 20m on Facebook and Instagram alone – was a prime example and took to social media to educate, inform and drive his bid to ensure children in the UK still received free school meals.
He was universally praised and, alongside the likes of Naomi Osaka and Lewis Hamilton, represents a surge in modern athletes using their enormous digital influence to help the betterment of society.
"Marcus' use of our platforms is exactly what Facebook intended them for – to create a network of communities that reflect the best of society and help to shape it positively," said Facebook's southern Europe lead, sports, Kike Levy.
"We have been privileged to play a small role in Marcus' efforts by simply facilitating his campaigning. It brings us great pride to partner with World Football Summit and honour Marcus' work through the Marcus Rashford Award."