The growth that women's football has experienced in the past decade is undeniable, and it finally seems on track to receive the recognition it deserves. Step by step, the growth engine is gaining momentum, challenges are being confronted and women's football is on the journey towards sports industry leadership.
In this article, we will take a look at some of the new heights that women's football has hit in recent years.
GROWING THE FEMALE SIDE OF FOOTBALL: THE FLYWHEEL IS IN MOTION
With every day that passes, records are being broken in the sport, particularly when it comes to women and football. From stadium attendances skyrocketing to enhanced salaries, prize money, and sponsorships, female footballers are finally starting to feel the recognition they should have been shown decades ago. 
The flywheel is already in motion and it should only continue getting stronger.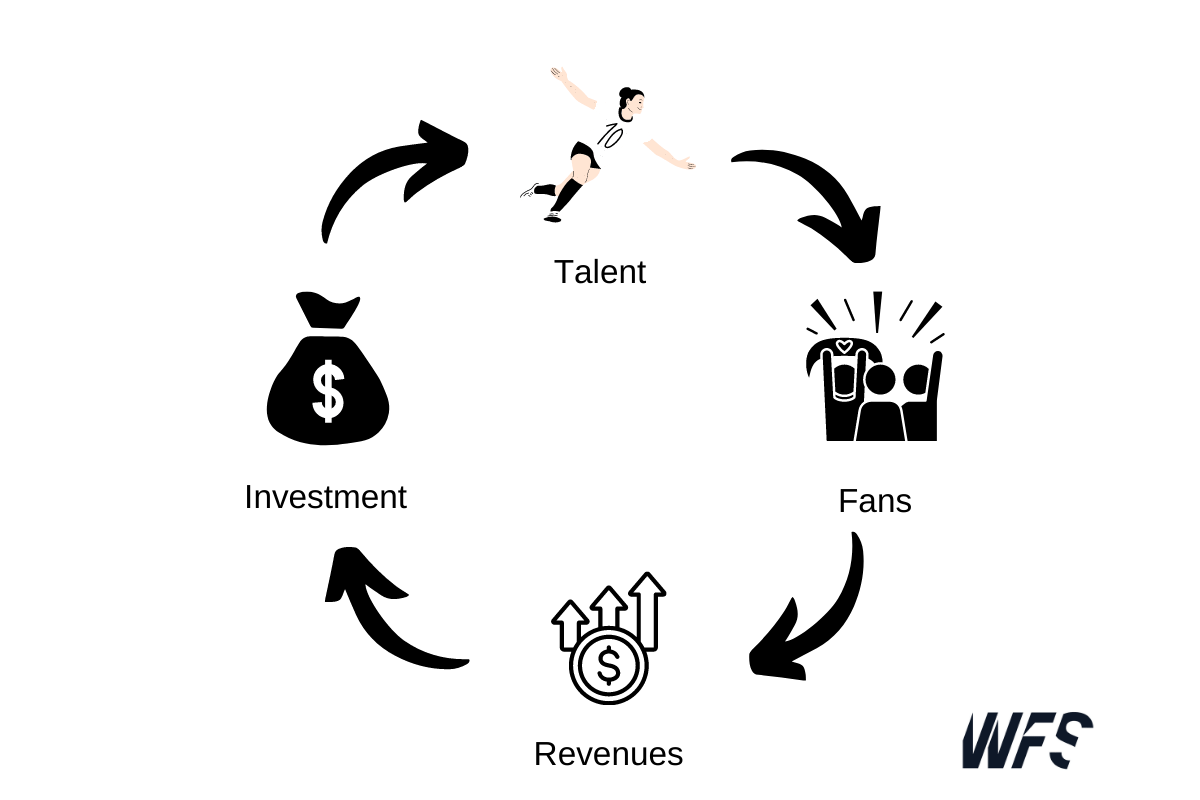 According to FIFA, there are 144 million women's football fans in Europe and the number can grow to 328 million from here to 2033. The value of women's football can multiply by 6 in the next decade, reaching an anual value of €686 million in 2033. These are important numbers for investors to consider and you can see they already are.
Big investments have been made in women's football over the past few years, with Angel City FC being an important example that brought together some of the biggest names around the world as well as being a majority female-owned club. Actress Natalie Portman, is one of the key investors in the project, but the team also counts on the backing of other major public figures such as Serena Williams, Jennifer Garner and Eva Longoria. 
Real Madrid's development of a professional women's team in 2020 is another prime example, which in their case they built after acquiring a local club in Madrid.
These investments are trickling down to the realm of talent acquisition and development. Important deals are being made with footballers, as is the case of Trinity Rodman who became the youngest player to ever be drafted to the NWSL (National Women's Super League) and took the league by storm in her rookie season, earning herself a $1.1 million 4-year-deal with the Washington Spirit, the highest contract in the league to date. All of this helps see names such as current Ballon D'Or winners, Alexia Putellas and Megan Rapinoe, become "household names" across the globe and increase the number of fans around the world along with unprecedented levels of attendance and viewership.
During the 2021/22 season saw Women's Champions League finalists, FC Barcelona, host a record-breaking 91,648 fans against Wolfsburg during the Champions League semi-finals. This record had been intact since the 1999 Women's World Cup Final between the USA and China at the Rose Bowl Stadium in California, which saw 90,185 people come together as the USWNT lifted their second World Cup.
Ho hem tornat a fer, CULERS!
We did it again: The WORLDWIDE RECORD is ours!
¡Lo hemos hecho una vez más! pic.twitter.com/wHeMkSsYmN

— FC Barcelona Femení (@FCBfemeni) April 22, 2022
These numbers are simply a reflection of the increase in popularity that women's football has gained over the last few years. For example, the FA Cup final between Chelsea and Manchester City held a combined attendance of 49,094 fans at Wembley Stadium, whilst the Women's Champions League final in Turin was witnessed in person by 32,357.
During the Eurocup  in England on 2022, over 574.000 spectators attended the matches. Matches that also attracted more than 300 million TV spectators across the world.

Not only has fan attendance surged, TV ratings, investment, and sponsorship deals have also increased significantly as the sport has expanded for women. Even DAZN has taken notice of this and has now announced in Spain a €9.99 monthly subscription for women's football.
The ratings are multiplying, which is driving a rise in TV broadcasting deals. For instance, the 2019 FIFA Women's World Cup in France enjoyed a total of 1,475 million viewers worldwide (considering both TV & Digital Platform viewers) and the final alone was watched live by 260 million viewers.
This growth has directly influenced new sponsorship deals and prize money being moved too. For example, FIFA and VISA have signed the biggest sponsorship commitment to date in women's football for a total of 20 million dollars, and the 2023 FIFA Women's World Cup is expected to award approximately $60 million to participating teams, which is double than what was offered in the 2019 tournament.
Taking all of this into consideration, this is a fantastic opportunity for brands to enter the space and support the athletes. Moreover, Arsenal's Chief Commercial Officer, Juliet Slot, explains that the athletes are more willing to be more involved in sponsorship activations, but at the same time, they demand to be part of more purpose-driven partnerships.
TALENT IS THE KEY ENABLER TO GROWING THE GAME OF FOOTBALL
Despite the progress achieved, there is still a long way to go. Front Office Sports interviewed some of the top female executives in an attempt to find out why female football is still not on the same wavelength as the masculine. They identified 3 main challenges that need to be addressed: governance, developing talent at the youth level to ensure the quality of the league in the long term, attracting and nurturing new fans.
Based on the flywheel outlined above, however, one could conclude that talent is the key enabler; after all, talent attracts new fans, revenues, and investment. For this to work though, there needs to be more equality in terms of salaries and wages; only then will the pool of talent widen.
There are still clear disparities between men's and women's football, and despite the gap having been minimally closed in the past few years, the discrepancies are incredibly palpable. 
However, some big strides have been made in attempts to break the glass ceiling and move towards a more equative future in the sport. For example, in February the USWNT finally succeeded in their long-time-coming equal pay settlement with U.S. Soccer announcing that they would guarantee players of both sexes equal pay, even in regard to World Cup prize money. One of the figureheads behind the insatiable efforts to achieve this benchmark was Cindy Parlow Cone, future WFS Europe speaker:
 "I think this is a great accomplishment and I'm excited about the future and working together with them. Now we can shift the focus to other things, most importantly, growing the game at all levels and increasing opportunities for girls and women."
Precisely on 2022 the Spanish National Team announced it had reached an agreement that would enable equality of bonuses received by female players with respect to male players, and where the image rights received by female players are also regularized.
Salaries are not the only enabler though. Those who compete also want recognition and to fulfill their competitive drive by winning trophies. Again, this is a front that has seen remarkable improvement although more needs to be done.
On the 2019 FIFA Women's World Cup, the female US National Team was awarded $4 million for their victory in 2019 while the male French squad received $38 million after winning the 2018 World Cup.
LOOKING INTO THE FUTURE: WOMEN'S FOOTBALL NEEDS TO BECOME A SPORT OF ITS OWN
Undoubtedly, the numbers and dynamics seem to paint a positive outlook for the sport. The flywheel is in full motion and we expect to see greater talent introduced to the game, and as a result, more fans, revenues, and investment. 
To take this up to another level now is a good time for women's football to use partnerships as a powerful lever to fuel international growth, as is the case with the Japanese WL and their agreement with LaLiga.
Women's sport, though, deserves an identity of its own, not to be seen as the "female" version of the men's sport. This is precisely the message that Haley Rose shares in her Ted Talk.
We, at World Football Summit, are big believers and supporters of this vision, we want to see the overall  game of football thrive by giving women a platform where they can demonstrate their expertise and leadership skills. This is why are were committed to have at least 30% female speakers at this year's event, which we successfully did, attesting to the fact that the industry needs women in all its areas.
During our WFS Europe 2022 event, Victoire Cogevina Reynal, founder of Gloria Football, shared exclusively with all attendees that One Football was acquiring her business while making her VP of One Football. In her own words:
"Football & women are not only the right thing to do, but it's also good business. There is a massive 3 billion customer market that is gravely underserved and untapped."
Perhaps Tamy Parlour, CEO and co-founder of the UK Women's Sport Trust, summarize the vision around the sport best in this quote: 
"We believe the next decade will be a game changer for women's sport and with some concerted focus on key areas such as visibility and data we can ensure it is not only commercially viable but sustainable for decades to come."
And our goal at World Football Summit is to be on that ticket for change as we have always demonstrated and championed.
There is still a lot of ground to cover, to name a few examples:
Only 12 out of the 122 Prime League's Board Members are women.
Just 2% of all the revenue in the football industry is destined towards women's football.
This article features in the latest edition of WFS Digest, our insider's guide to the latest and most relevant thoughts and practises from within the football industry. You can subscribe to WFS Digest HERE.