Sevilla, The Epicenter of Football's Revolution 
There's an old saying that change is the only constant. In Sevilla, on this particular day, change didn't just knock on the door—it kicked it open. World Football Summit proved to its 7th edition of WFS Europe that this event is not about football; it's about change, and creating a football industry we are proud to champion.
The Dawn of a New Football Era
The night of the 19th things started off in style with an exclusive dinner hosted by Jugo. The thing is we live in a culture of upgrades. Phones, cars, even our morning coffee. But what about upgrading football? Marian Otamendi, Co-founder and Director at WFS did just that with a speech that wasn't a speech—it was a manifesto for the future of the sport.
Joining her in the opening ceremony, Sevilla's own Minerva Salas and José María Arrabal, helped set the stage for the rest of panels, activities, and discussions that would take place throughout the day. 
Where Innovation Meets the Pitch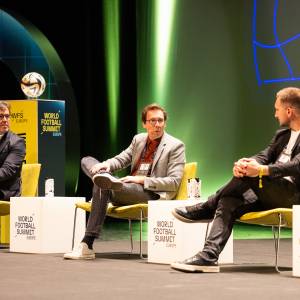 Football is an art. A bit of structure, a lot of improvisation, and when it works, it's pure magic. Today, we saw masters of various instruments—sports technology, fan engagement, player performance—come together for a jam session that had all those listening, visualizing and even feeling the future of football.
And it's not just talking heads; these folks are drawing the landscape. Like Joao Paulo Correira, Portugal's Sports Minister, who's not just aiming for goals but also aiming for hosting the World Cup in 2030, in a bid that aims to prove that football is a unique force that unites cultures.
This is the first World Cup Bid that will unite cultures using strong sports values such as solidarity and peace.
Not Your Average Fanfare
Jugo shook the first panel with leaders from PSG, Arsenal, and Eintracht Frankfurt. They demonstrated it's not just about selling merchandise or tickets. It's about crafting stories, experiences, and communities. Nadia Benmokhta, from PSG, concluded:
Making a cool brand helps you generate revenues for sponsors because it makes you unique versus other teams.
The future of football belongs to those who can imagine it
Nothing encapsulates the potential of this sport like the dialogue between FIFA Secretary-General Fatma Samoura and Nobel Laureate Prof Muhammad Yunus. Their talk was a reality check: football isn't just a game; it's a movement for global change.
Football is definitely the world sport that has the power to bring alive all social changes.  Also, we had to make the world a better place and also to make living on this earth more desirable for humans.
New Horizons, Not Just New games
Carlo Nohra from the Roshn Saudi League reminds us that disruption is not a Western monopoly. Saudi Arabia's 2030 vision isn't just a vision; it's an action plan in the making.
We are trying to play our role in making the game even more global by developing the game in Asia which is our home, our continent and to be able to provide entertainment for the people.
LALIGA and EA Sports: Learning from Titans
When two giants speak, you listen. But more importantly, you learn. This isn't just about the future of the game; it's about the future of how we interact with the game.
And it does not get better than when LALIGA and EA Sports come together to distill knowledge about how fans are shaping their relationship with football in today's day and age. The message is clear; interest in football is going nowhere, but now properties must embrace a diversified channel strategy and understand that fans want more content, more authenticity, and even a sense of empowerment.
We are building an experience around what you see, feel, hear, and play. It is a very diverse community of fans, which is why authenticity is a universal thing for us.
Javier Tebas, President of LALIGA, returned to WFS Europe to share his views for the future of the industry and to keep his quest toward a sustainable and professional football industry. He also shared his views about what makes a competition successful.

To build a true league you need good players but you also need to put efforts into developing the brand of the competition and its teams.
A Marketplace of Ideas for the future of football
The industry stage hosted a brilliant portfolio of brands like Genius Sports, Forza FC, Zetly, the UAX Academy, Skillcorner, 433, and Sportswik, new dimensions to the discussions.
And yes, let's take a moment to tip our hats to Juan Valdez's coffee—because even revolutions need caffeine and Root's Life Modern Water, for fueling the attendees throughout the day.
The Workshops of Tomorrow
WFS Europe 2023 wasn't just a stage; it was a workshop for the future. Because change isn't something you watch; it's something you do. It's football's new workshop, where the product is not a score, but a better future.
An Andalusian Dusk
But what's an event with some fun and laughs? All attendees could relax on the terrace of the venue under beautiful weather and the amenities provided by Cervezas Victoria, Schweppes, and ACX Music, as professional relationships were turned into friendships.
To top it off, a tour de tapas around Sevilla was the crescendo to an already intense symphony of ideas, ambition, and game-changing strategies.
The Game Outside the Game
Today was a perfect showcase that WFS Europe is more than just a summit; it's a call to action. A call to dream bigger, strive harder, and reach higher in shaping the football we want, the football we need. And this was just day one. The excitement is far from over. Tune in to day 2 for more game-changing insights and transformative ideas.
Don't you want to be a part of it?