The following insight is part of WFS Digest thanks to our partners at Ganassa, a content creation and fan engagement agency dedicated to studying the development of football in the Asia-Pacific region. Their long list of prestigious clients includes top-tier names such as FIFA, UEFA, Bundesliga, Manchester City…
And, we are happy to confirm that Ganassa will be present at WFS Europe this September, joining us as an exhibitor during the event.
A changing landscape in the world of broadcasting
"Once a new technology rolls over you, if you're not part of the steamroller, you're part of the road." 20 years ago, satellite broadcasting looked like a pioneering experience. Nowadays – thanks to the discovery of increased video quality, cloud technologies, and worldwide internet consumption -, we've already switched to over-the-top (OTT) streaming services and providers.
A 2015 ConsumerLab study found that "80 percent of teenagers and 30 percent of 60 to 69 year olds who watch video, watch streamed on demand TV and video at least once per day." Furthermore, Digital TV Research projects that streaming video on demand (SVOD) revenues in Asia Pacific will reach $28 billion by 2027, up from $18 billion in 2021. AVOD is expected to grow by $8 billion to $19 billion by 2027. 
OTTs are taking over the world of home entertainment
Many companies are throwing their hats into the OTT ring. This isn't just Netflix's market anymore; everyone is giving it a try since the pandemic gave a major boost to demand, and sports are no exception. DAZN entered the market in 2016, Disney-owned ESPN is preparing to launch a fully-featured streaming service, and of course, Amazon started dipping its feet into these tumultuous waters.
Although the West appears to be a saturated market for streaming services, there's still space to expand in Asia. Leading the charge from the West is Netflix, which recorded an increase of 1 million users in Asia in the first quarter of 2022. However, the company is not alone in the APAC region, as many streaming providers have stepped up to the plate and the government of South Korea has created a 23M USD dollar fund to nurture the growth of content for OTT services.
And those who want to expand in the APAC region might want to learn from the success stories of American major league sports. Media passes worked well both inland and abroad for the leagues, but NFL+ took it a step further and launched its own streaming service. F1 took a similar approach, making their own coverage available for those countries where TV rights are not sold and also promoting their league PR-wise (look to the "Drive To Survive-Effect" and its influence on TV rights).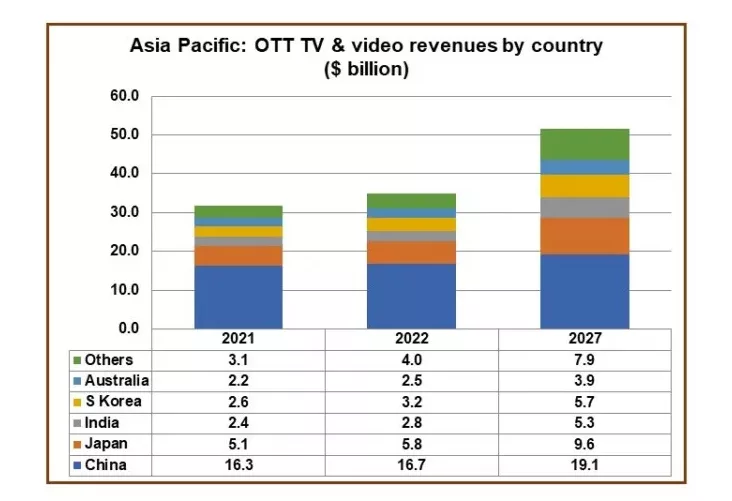 Since the release of its popular Netflix documentary series originally launched in March 2019, F1 saw its average viewers increase to 931,000 over the first 14 races of 2021.  That is a 53% increase from 2020 and a 40% increase from 2019. According to viewership data from Netflix, the fourth season of the F1 documentary broke the top 10 list for the TV category in 60% of the countries listed at some point between its release (March 11th) and July 31st. 
FIFA and its quest to gather 1st party data through its OTT
Major organisations in football are also beginning to feel the vibe. FIFA took the chance to launch its own streaming service in April 2022, debuting with six languages and adding four more in June. Our team had the opportunity to speak with Andrew Whitelaw, Leading Coordinator of FIFA's APAC project, which launched in Japan, Korea, and Indonesia just last June. 
"Football is the most beloved game on the planet. FIFA+ is seeking to use its platform to share incredible stories across the globe to as many people as possible."
The goal is also to enlarge the audience by reaching Millenials and Gen-Z, who are the main consumers of OTT in Asia: a study by "The Trade Desk" revealed how 33% of Southeast Asian users are streaming through OTT service. And 44 percent of OTT viewers are Millennials and Gen Zers, aged 16 to 34. It's fundamental to attract them.
"Accessibility is crucial. The goal is to both encourage the love of the sport among existing fans as well as attract new ones by being the ultimate home for football. That means offering a unique blend of original series, written editorial, archive footage, live match data, gamification, and live streaming".
FIFA's content library is a source of competitive advantage
Of course, compared to other streaming services, FIFA may be to sports what Disney is in the entertainment sector. Compared to DAZN or Netflix, FIFA already has a solid resource in their archive: they own the history of the World Cup ( the FIFA World Cup racks up 3.5 billion viewers, 1 billion of which are just for the final). Andrew underlines that:
"FIFA boasts arguably the greatest archive in sport, and this is undoubtedly one of the most attractive drivers for the FIFA+ OTT. There are moments and angles from various tournaments encompassing men's, women's, and youth football as well as esports that have never been seen before." 
If you mix historical leverage, easy accessibility, and prime-time attention when the World Cup comes, it seems it's the best time ever to witness such a launch. One thing is to have too many choices, but it's different for a football fan to have access to a complete archive of your own, at your disposal with just one click.
"Our goal is to offer users the opportunity to relive every minute of every game from every edition of the World Cup. As well as showing full matches from our archive, we offer extended highlights from classic games, 'remixed' or 'reimagined' moments from iconic players as well as short-form highlights from the upcoming showpiece in Qatar." 
Why (East) Asia Matters: Content consumption has skyrocketed
McKinsey & Co. proclaimed how "the Asian Century has arrived". Even though the pandemic slowed down the growth of all economies, the International Monetary Fund (IMF) forecasted last year that Asia's emerging and developing nations will grow their real GDP by 6.4% in 2022, compared with the 4.9% growth projected for the world. OTT providers are very interested in the resilient Asian markets, particularly since there has been a 60% increase in weekly average minutes viewed during lockdown according to Media Partners Asia. However, any OTT editorial plan must take into consideration the current online content consumption growth in Southeast Asia. 
In addition to Hollywood blockbusters and content made for the global market,  consumers also want localised content designed specifically for them. Although designed with a smaller audience in mind, this localised content also has the potential to reach a global audience as the Korean dystopian Netflix series Squid Game did in 2021. 
Andrew understands the value of localised content well: "A key part of our strategy is localisation – says Andrew, who has worked in this part of the world for over a decade -. We have created a rich body of premium original content: each one of these films will be available with subtitles and in some instances local voice over…We've created original shows and a short-form hub section dedicated specifically to local markets. For our daily 'always on' content we've also set up dedicated editorial teams in each country that are producing news, short-form video and exclusive interviews with the best players in the world." 
When it comes to deciding how to design content, one must ask how a proper and intriguing editorial proposal will engage with users around the region, as well as how the content can be converted into revenue streams. Ultimately, the quality of content must remain the primary focus:
"If the content shines, everything else follows. We are fortunate at FIFA to have so many fantastic commercial partners. We already understand the importance of the FIFA Men's and Women's World Cups. Our goal is to go beyond that and offer elite football content to fans 365 days a year, every year. There's immense value in that."
It seems OTT will be a long-standing topic in the next decade while evolving in the face of every user and worker within the industry. And there's no better place to discuss the topic than in September, when the World Football Summit will have its own annual event for Europe in Seville on September 28-29, 2022.
The largest football industry event is held annually to discuss the most relevant topics, generate business opportunities, and meet stakeholders within the sports and entertainment sectors. After last year's meeting in Madrid, if you take part in the one in Seville and discover more about the football industry, please click the link below.
This insight features in the latest edition of WFS Digest, our insider's guide to the latest and most relevant thoughts and practices from within the football industry. You can subscribe to WFS Digest HERE.