It is, without a doubt, that 2022 has been "a year of firsts" in the global football industry. The first Men's World Cup in the Middle East, the first time more than 90.000 people gather at a women's football game, and, for World Football Summit it was the first year that our Football Innovation Forum was celebrated in Sevilla, the first year we hosted a WFS event in Africa, and the first year that WFSEurope was hosted outside Madrid. 
Take a look at all the great "firsts" football has experienced over the course of 2022, and as you reminisce on the accomplishments earned this year, let's work towards making 2023 even greater.
A remarkable year for World Football Summit!
As we incorporated new members into our team, our WFS family grew in number and in talent, and this combined with our passion for football, is what drove us to achieve all of WFS events, goals, and accomplishments this year. 
Football Innovation Forum: Understanding the next frontier of the football industry
Sevilla welcomed a select group of industry leaders for Football Innovation Forum on the day of the 2022 Europa League Final. The event in May gathered the brightest minds in sports technology and innovation in Seville to discuss the future of our industry and the barriers needed to cross to move forward. 
It was also known for the quality of speakers attending this event, making the panels much more enriching, including Michele Uva from UEFA and Javier Sobrino from Aser Ventures. All of the sessions were filled with insights and experience in many innovative fields which you can relive on our YouTube Channel.
One of our favorite quotes from Michele Uva about sustainability was:
"Football must not simply intercept and follow sustainability and societal trends. It must anticipate and originate them."
We were joined not only by talented minds but also by incredible partners like Meta, or LaLiga, and top-tier football clubs Sevilla F.C, and Real Betis, among others.
This great event served as an exclusive preview for our flagship event WFS Europe which was hosted in Seville as well, only three months after. 
Next year FIF travels to Istanbul on June 9th, the day prior to the Champions League final. This is an event you won't want to miss, and you can now pre-register online! See you there! 
WFS Europe – Sevilla becomes the capital of the football industry
Six years after our first edition of World Football Summit Europe, it was time to leave Madrid and host our event, for the first time in Sevilla. The entire city welcomed us with open arms and became a fantastic setting for hosting the global football industry under the same roof in our flagship event: WFSEurope.
Our event hosted more than 2000 attendees on-site and more than 170 speakers on a two-day event with more than 50 panels and 250 clubs and federations attending. The networking opportunities were simply impossible to count! 
We were also joined by exceptional speakers at this event. Among them, Óscar Mayo, Cindy Parlow-Cone, Claire Bloomfield, and Andrea Ekblad, who shared their insights and experience across our stages. Don't miss the best quotes from WFSEurope! We gathered some of our favorites in this Instagram post!
View this post on Instagram
As we do every year, at World Football Summit we've deemed it necessary that the football industry share the spotlight and acknowledge those behind the scenes that make our sport shine. The WFS Awards were created to honor the achievements of those executives, managers, sponsors, agencies, media, NGOs, and other professionals whose talent, passion, and dedication help make football the greatest show of our time. This year we had more than 300 participants who submitted applications for a chance to win in our 10 categories.
The representatives from clubs, leagues, and federations who joined us from all over the world, are a key part of understanding the dynamics of the industry. We want to give a special mention to Sevilla FC & Real Betis Balompié, whose ongoing support throughout the entire preparation phase for WFS Europe was fantastic.
Moreover, we believe in sustainability becoming a priority for the global football industry. It is a challenge worth pursuing. Thanks to our partnership with ClimateTrade we were able to achieve our goal of having #WFSEurope become 100% carbon neutral this year. The brand calculated our carbon footprint at 385 tons of CO2, and to offset them, we chose a project which consists of the implementation and operation of renewable energy plants in Brazil, whose goal is to reduce greenhouse gas (GHG) emissions by avoiding generation of electricity from fossil fuel sources.
Since the very beginning, one of our partners has been Common Goal. And through them, we were able to donate 10% of our ticketing revenue to projects aimed at helping those impacted by the war in Ukraine. Similarly, were also able to achieve our commitment with Women in Football of having more than 30% women as our speakers at this edition of WFSEurope, with the actual figure being 34%.
And speaking about partners, this event could not have been the same without our partners, We want to give special thanks to our global partners, LaLiga and Meta. To our academic, media, accommodation, conference, and industry partners Cruyff Institute, EuroStars Hotels, Renfe, Nielsen, Grupo Prisa, FC Business, Bus For Fun, Portas Consulting, Pixellot, Hudl, Qatar, and Molcaworld. Also, this year we partnered with an airline for the first time, and not any airline, we partnered with Turkish Airlines who have been nothing but amazing at WFSEurope and WFSAfrica.
If you want to get a more extensive recap of our 2022 #WFSEurope event, we've got you covered. Click here to find out more!
Clearly, WFS Europe is an event not to miss. So make sure you get your spot at our next edition, which will be held again in Sevilla in September 2023.
Pre–register now and don't miss the chance to accelerate years of networking into a matter of days!
After three years in the making, the dream of WFS Africa finally became a reality
It's not news that World Football Summit wanted to bring the industry together in the African Continent in March 2020. However, the COVID-19 pandemic had other plans and our event had to be postponed. 
After three years in the works, we keep our commitment, and WFSAfrica came to life in Durban, South Africa where the Province of KwaZulu-Natal welcomed our team and the industry leaders for a two-day event where countless insights and experiences were shared.  
"In hosting this WFSAfrica event, we in the KwaZulu-Natal province are once again demonstrating our capacity to be able to host a global event."
It was our first time hosting a World Football Summit event on African soil and the football community there did not disappoint. 
WFS Africa had the pleasure to have over 1000 attendees (750)  physically and virtually join us on our 19 panels where our 74 speakers shared their wisdom and experiences surrounding African Football. With the participation of more than 100 clubs, leagues and federations, we can safely say that WFSAfrica was a success! 
We were joined by incredible speakers such as Thlopie Motsepe from the Mamelodi Sundowns F.C., Patricia Peiró Hergueta from Telecoming, Marcos Pelegrin from LaLiga Africa, Dr. Ephraim Matsilele Sono from Jomo Cosmos F.C and Susan Destombes from COSAFA, among others. They, along with the rest of the attendees, were responsible for creating networking opportunities that were top-notch, and we discussed important topics needed to continue developing our sport in the African region. 
We are aware we could have not done it alone, and for this reason we want to thank our partners for their countless support, including the region of KwaZulu Natal, Meta, La Liga, Hudl, and Telecoming
One of our most celebrated panels was about defeating stereotypes to seize a unique opportunity in African Women's Football. Where Dr. Mariam Mell'Osiime Mpaata brilliantly moderated the conversation joined by Lola Ogunbote from Burnley FC, Thlopie Motsepe from the Mamelodi Sundowns F.C. and Paul Dreisbach of Petrichor Football Association. This panel was so insightful that we haven't been able to stop sharing it across our social media channels and our WFSPodcast.
But that was not the only incredible panel at WFSAfrica. In fact, we turned our favorite quotes from the event into a Twitter thread so that you can easily find them.
We're all set for day two at #WFSAfrica ????

Follow all the action LIVE via this thread.

???? pic.twitter.com/J1tXK3y4nn

— World Football Summit (@WFSummit) November 17, 2022
Certainly, WFSAfrica was one of our most special editions of World Football Summit. If you want a more deep recap of this event, click here to find out more!
We bring you closer to the football industry. The World Football Summit Podcast is now live!
One of our favorite things that happened throughout the year was the launch of our World Football Summit Podcast! Our first episode aired the last week of August and since then we've been very busy talking to the top professionals, brands, and organizations from our industry to bring you closer to them. 
We can't believe our 20th episode airs this week! We've put so much effort and passion behind every single one of our interviews and as we continue to grow, be sure we won't stop working hard! 
Throughout the year we've spoken to people like Félix Torralba from RCD Mallorca about driving growth at the club and Lindi Nguenya, from Sisu Sport Management about managing women's football talent in Africa as we were getting ready for our first-ever WFSAfrica. We've discussed topics like the World Cup of First, understanding the GenZ Sports Fan, minting video NFTs, social media strategies, and how LaLiga is helping to grow the African Football Industry! 
We've really tried to cover all important topics to bring you the best of sports business on your favorite podcast platform. If you haven't, you can listen to our podcast here!And get ready for 2023 because the show will only get better.
2022: An unforgettable year for the football industry
LaLiga and Globant announce a new joint venture at WFSEurope
During WFS Europe, our main partner LaLiga made the most out of our Main Stage to end day one with extraordinary news: the joint venture between LaLiga Tech and Globant. 
In doing so, LaLiga used World Football Summit's platform to directly deliver the news to some of our industry's biggest stakeholders and most significant media houses. Oscar Mayo shared the following message with the industry:
"LaLiga Tech was created to help sports and entertainment accelerate their digital transformation, and the surge in demand we have seen shows that this remains a core priority for the industry. 

Partnering with Globant will allow us to continue this growth at a global scale while creating the most immersive and valuable technologies for our clients. Globant's expertise in business information, combined with our long-standing experience of how to grow sports competitions through technology, creates a unique and exciting proposition for the market." 
OneFootball's acquisition of Gloria App
During WFS Europe, OneFootball announced the acquisition of Gloria App in a move that reinforced its mission to make football as accessible as possible to its global fan base. Lucas Von Cranach, OneFootball CEO, also revealed that Gloria App founder Victoire Cogevina Reynal would become the first vice president of women's football at the company. 
The announcement was made during the closing panel of day two at WFS Europe, where Victoire had a powerful message for the audience:
"I believe that this acquisition – beyond being a win for our investors, for our team, and for myself – is a win for women in football," said Cogevina Reynal. "It tells us that we can come into the sport, we can build solutions for problems that we see and people will recognise us for that. I think that is very powerful."
Along those lines, Alexis Ohanian, who was an early investor at Gloria Football and Angel City FC; arguably the "coolest" women's football property of the moment is a true believer in the potential of the sport in the United States:
"Women's football in America has the potential to become bigger than the MLS over the next 10 years."
Alexis' quote is a great introduction point to one of the biggest stories of 2022…
The exponential growth of women's football
Women's football is on a path to exponential growth after the record-breaking figures we have seen across the world in attendance, investment, broadcasting, sponsorship deals, and more! 
The growth that women's football has experienced in the past decade is undeniable and it finally seems to be receiving the recognition it deserves. Step by step, the growth engine is gaining momentum, challenges are being confronted and women's football is on the journey toward sports industry leadership. Earlier this summer, we wrote an article where we explored more deeply some of the new heights that women's football has hit in recent years.
The flywheel for women's football is already in motion and it should only continue getting stronger.
It should not come as a surprise that women are taking over a big part of the football industry, not only on the pitch but as executives of clubs, federations, and associations who are working hard to develop our industry as a whole. If you want to hear from some of the incredible women taking the lead in our industry, then this article with some of the best quotes of 2022 is not to miss.
The 2022 FIFA World Cup in Qatar: A World Cup of First
This edition of the World Cup was surrounded by controversy ever since its announcement in 2010. Nevertheless, it was unprecedented that a World Cup would be held in a Middle Eastern country. It was also the very first time the tournament would not be held during the summertime, but during the winter instead.
During WFSEurope there were many topics discussed around the technological innovations, challenges, and developments the organizing committee had to face to put together this spectacular event. We held a panel exclusively about Qatar 2022, you can watch it completely on our YouTube channel!
Qatar 2022 showed us the face of a new culture football had yet to explore. It delivered amazing matches throughout the tournament and it concluded with one of the best finals our sport has ever seen.
World Football Summit attended a few matches at the World Cup, where we visited stadiums like Al Thumama, Al Bayt, Khalifa International Stadium, Lusail, and Stadium 974. We also enjoyed watching matches like Spain vs Costa Rica and Mexico vs Argentina. It was a World Cup to remember.
This World Cup of First was also the very first time an African team went as far as the tournament's semifinal, where Morocco earned a historic 4th place overall after being defeated by Croatia in the semifinal. This only showed us the potential African countries have in our sport, and as Goolam Valodia of the Mamelodi Sundowns F.C said on WFS Africa:
"In Africa, we have experts in everything that can help change the game and the things we want to do."
On a separate note, it is not news that the 2022 World Cup in Qatar was a long-awaited event, so naturally, it also broke some records worth remembering:
Lionel Messi, Argentina's legendary player broke Instagram's record for the most number of likes on a single post in less than 24 hours (70M likes approx). It is also worth mentioning that out of the top 20 most-liked posts on Instagram, 9 have been published by Messi.

Google's CEO Sundar Pichai announced on Twitter that the platform's Search function reached the highest-ever traffic number in its 25 years of history during the World Cup Final between Argentina and France.
"It was like the entire world was searching about one thing!"
Throughout the tournament, about 147 billion conversation impressions were registered on Twitter. 

After the final result of the World Cup, over 5 million people took to the streets of Buenos Aires to celebrate the arrival of the Argentinian team on December 19th.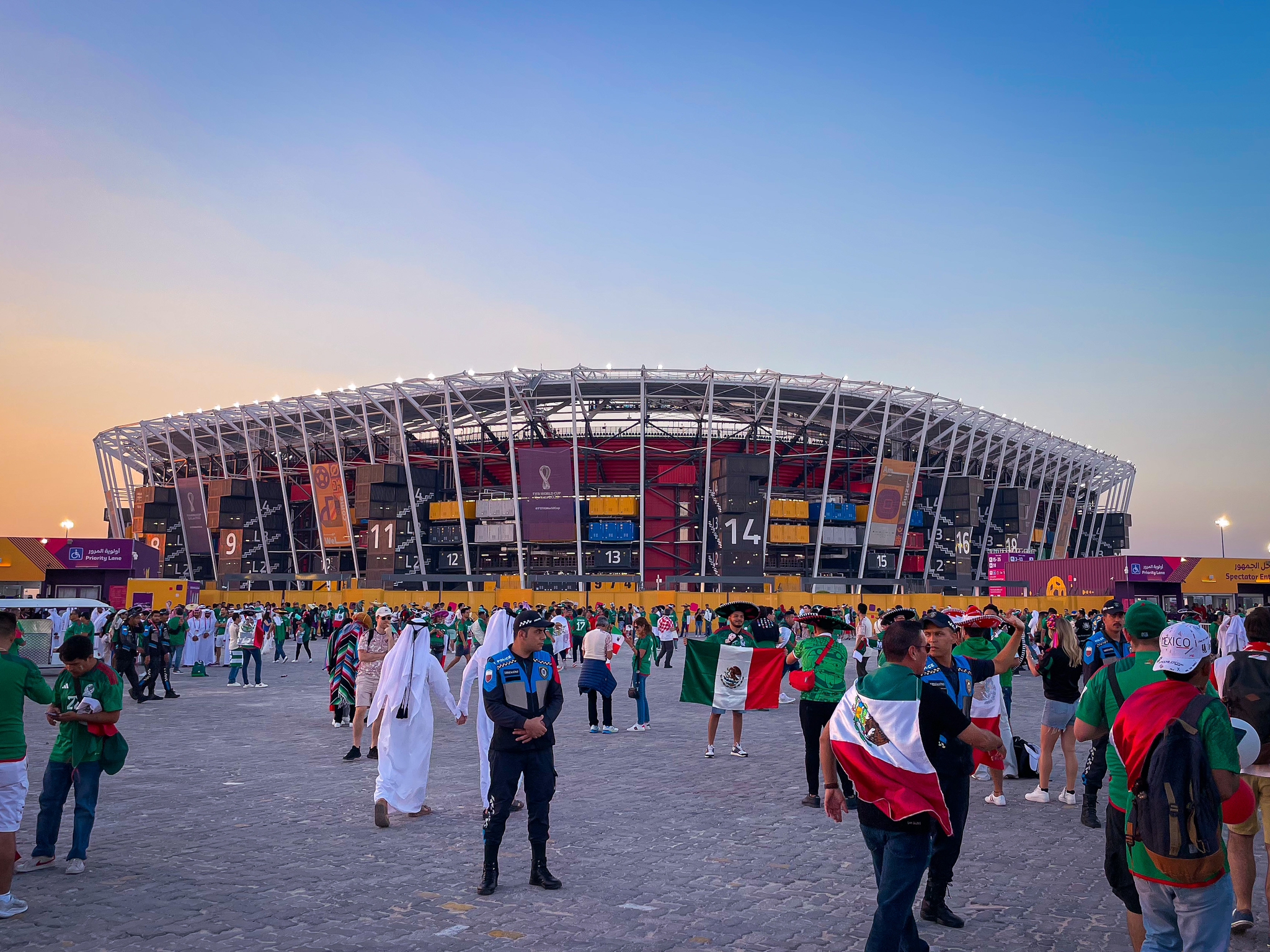 Thank you for helping us make 2022 an unforgettable year for World Football Summit
It is undeniable that this year was one of our best ones yet at World Football Summit. And we couldn't have achieved any of it without:
Our entire family of Partners, whose commitment has been instrumental to develop insightful panels, profound workshops, and overall increasing the level of business acumen across all events.

The exhibitors filled our Expo Areas & helped grow the number of networking opportunities and aided the industry to identify new trends and horizons.

The representatives from clubs, leagues, and federations who joined us from all over the world, as they are a key part of understanding the dynamics of our industry.

The entire line-up of speakers & moderators, whose wisdom and expertise will help design a better future for the football industry.

Our amazing attendees joined us for the event, both in person and virtually.

The volunteers of each event whose effort and commitment was key to delivering on the expectations we had.

Finally, to the entire WFS team, for putting everything on the line and magically putting the pieces together, and delivering three amazing events.
For us, the countdown has already begun for next year. We cannot wait to welcome you all back in 2023!